Missouri is fourth in the nation in dog ownership, with 45.9 percent of households owning a pooch. So it is no surprise that St. Louis boasts some exceptional dog parks. Whether you're new to St. Louis or considering a move here, finding the best dog parks isn't just about playtime. Rather it's about building a vibrant community for both you and your pet. Dog parks are the perfect place to strike up conversations and form lasting bonds with like-minded neighbors. It's a win-win for both you and your furry family member! We've compiled a list of of some popular dog parks in St. Louis. Some are free and some require paid memberships.
Dog Parks Popular in St. Louis City
Bar K Dog Park & Bar
Bar K Dog Park & Bar combines two things that dog lovers adore – playtime for their pups and a refreshing beverage for themselves. Launched in 2021 in The Grove neighborhood, Bar K features a 2-acre outdoor dog park, a 10,000-square-foot indoor dog park, a separate no-dogs-allowed dining room and three bars (two indoor and one outdoor). It's wildly popular all year round.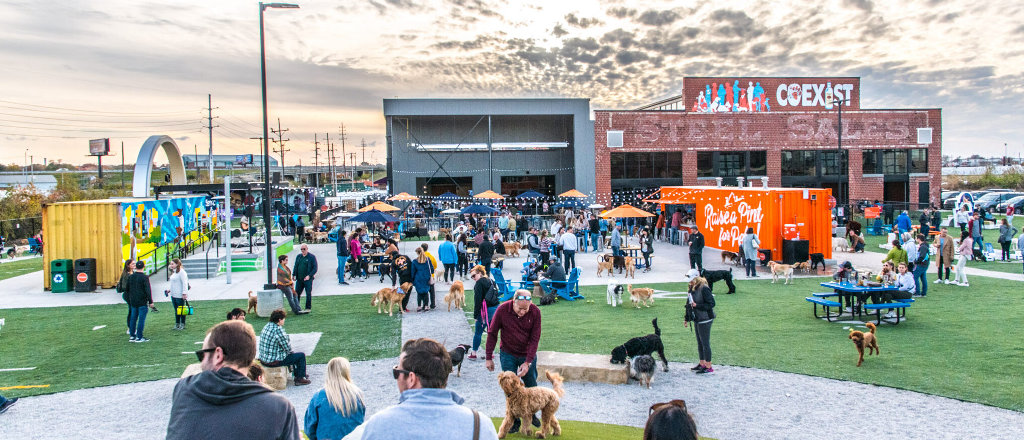 Frenchtown Dog Park
Frenchtown Dog Park is located in the vibrant Soulard neighborhood. It is over 3/4 of an acre making it one of the largest fully fenced, green spaces in the city of St. Louis where dogs and their owners can play.
SLU Sculpture and Dog Park
SLU Sculpture and Dog Park is within the Saint Louis University campus. The dog park offers a convenient and comfortable space for both students and local residents. Featuring a double-gated entry system, shaded areas, and benches, SLU Dog Park ensures a secure and pleasant playtime experience for dogs and their owners.
Southwest City Dog Park
As one of St. Louis' oldest dog parks, Southwest City Dog Park has earned its reputation for being a trusted haven for pups. Located in Willmore Park, it has separate areas for small and large dogs, well-maintained grassy areas, and a friendly community of regulars.
Laclede's Landing Dog Park
Laclede's Landing Dog Park is situated along the picturesque riverfront and offers a breathtaking view while providing a safe and engaging space for your furry companion. The dog park is under a bridge, so even on the hottest days, there is plenty of shade. It is fully fenced in and has a large grassy field for frolicking. After a game of fetch or a friendly romp with other dogs, you can explore the historic Laclede's Landing district together.
Dog Parks Popular in St. Louis County
Kitun Dog Park
Nestled between Sunset Hills and Crestwood is Kitun Dog Park, a partnership between the two neighborhoods. This is a 4 acre fenced in area for dogs to play off leash. The park is separated into a 2.5 acre area for large dogs, 1.25 acre area for small dogs, and a .25 training area. Featuring well-maintained grounds, play equipment, and a serene atmosphere, this park provides an ideal setting for dogs to explore, exercise, and socialize.
St. John's Community Dog Park
St. Johns Community Dog Park, located in South County, is a volunteer-maintained dog park is a testament to the dedication of the St. Johns neighborhood community. 10,000 square feet provides an  excellent place for dogs to have a blast and for owners to connect with fellow dog lovers.
Treecourt Dog Adventure Park
For those seeking a more adventurous outing, Treecourt Dog Adventure Park: is a dream come true. Located on the western edge of Kirkwood in Valley Park. With expansive wooded trails, open fields, and water features, this park offers an array of activities for both dogs and their owners, promoting an active and healthy lifestyle.
Tails & Trails Dog Park
Situated in Queeny Park in Manchester, Tails & Trails is a sprawling dog park with ample room for dogs to run, explore, and make new friends. This membership only, off-leash, 5-acre park features separate areas for large and small dogs. Other amenities include one water features, four permanent agility and skill stations, biodegradable waste bags, disposal containers, and watering stations.
Deer Creek Dog Park
Deer Creek Dog Park in Maplewood has a double gate system to keep pets safe as they go in and out off-leash. There's plenty of open space to run and play, a hydration station, exercise equipment and obstacles for dogs to climb, and a wading pool. The park is well-shaded, making it a popular choice during the warmer months, and its friendly atmosphere ensures that every visit is a tail-wagging success.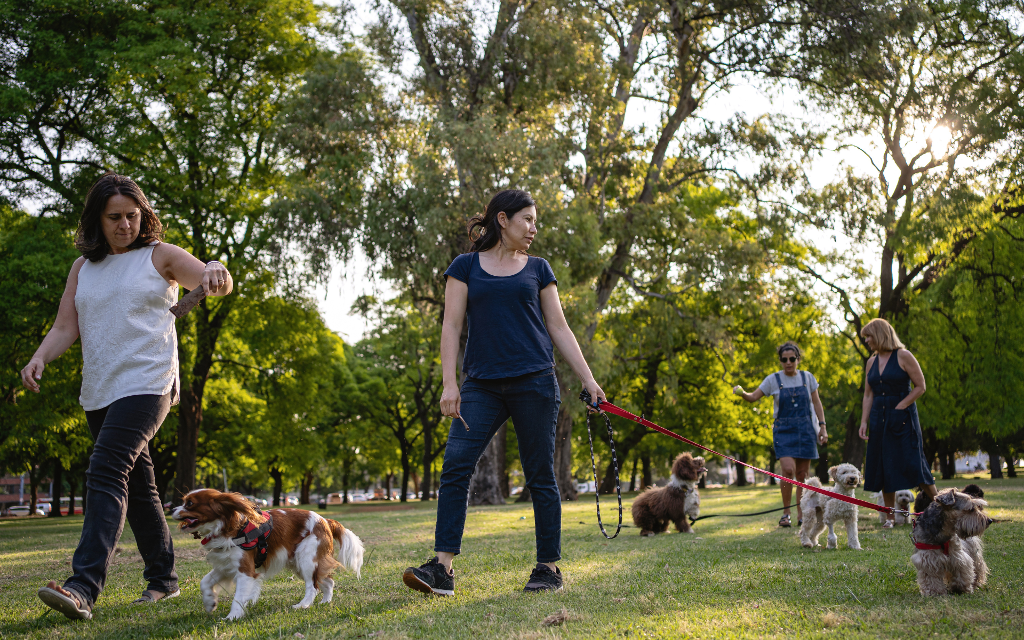 Conclusion
St. Louis is a city that welcomes dogs with open arms, offering a diverse range of dog parks that cater to every pup's personality and every owner's preferences. Whether you're in search of an urban oasis, a scenic adventure, or a community-centered playtime, these top dog parks in St. Louis have something special to offer. So leash up your furry friend, head out to one of these fantastic parks.
If you are moving with a dog, cat, or other creature – check out our blog post Moving With Pets for tips.