Ultimate Forest Park Bucket List
Forest Park earned the #1 spot for the second year in a row in USA Today's 10 Best Reader's Choice Awards – Best City Park". Our bucket list is filled with quintessential experiences plus off-the-beaten path activities that you may not have tried. If you aren't familiar with Forest Park, check out our Guide to Forest Park.
How many have you done?
Been inside the Jewel Box
Visited Hidden Creek Savanna
Seen a show at the Muny
Played at the Nature Playscape
Golfed or caddied at a course
Played or watched a soccer game
Watched or played baseball or softball game
Played tennis, handball, or racquetball
Taken a paddle boat out
Walked the boardwalk in Kennedy Forest
Skated at Steinberg
Hung out at Council Circle
Played in Kerth Fountains
Attended event at World's Fair Pavilion
Rode the train at the zoo
Walked the Victorian Footbridge
Gone to the Balloon Race or Glow
Walked or run for charity at the park
Gone on St. Louis Audubon Society Bird Walk
Fished at Jefferson Lake
Been inside the Cabanne House
Had pictures taken at the Grand Basin
Had a date at the park
Visited the Art Museum
Gone to the Shakespeare Festival
Hung out at the Seven Pools waterfall
Visited the stable that houses the STL Police Department's mounted unit
Had a picnic at Picnic Island
Sled on Art Hill
Watched a movie on Art Hill
Had a picnic at Art Hill
Seen a concert anywhere in the park
Visited the Missouri History Museum
Gone to the Science Center
Biked the trails of Forest Park
Gotten your picture taken in front of Saint
Louis statue at Art Museum
Checked out the Visitors Center
Walked the bridge over the highway from the Science Center to Planetarium
Hiked on Successional Forest Trail
Watched the stars at the Planetarium
Seen the Korean War Memorial
Dined at the Boathouse
Walked the trails around the Fish Hatchery
Donated to Forest Park Forever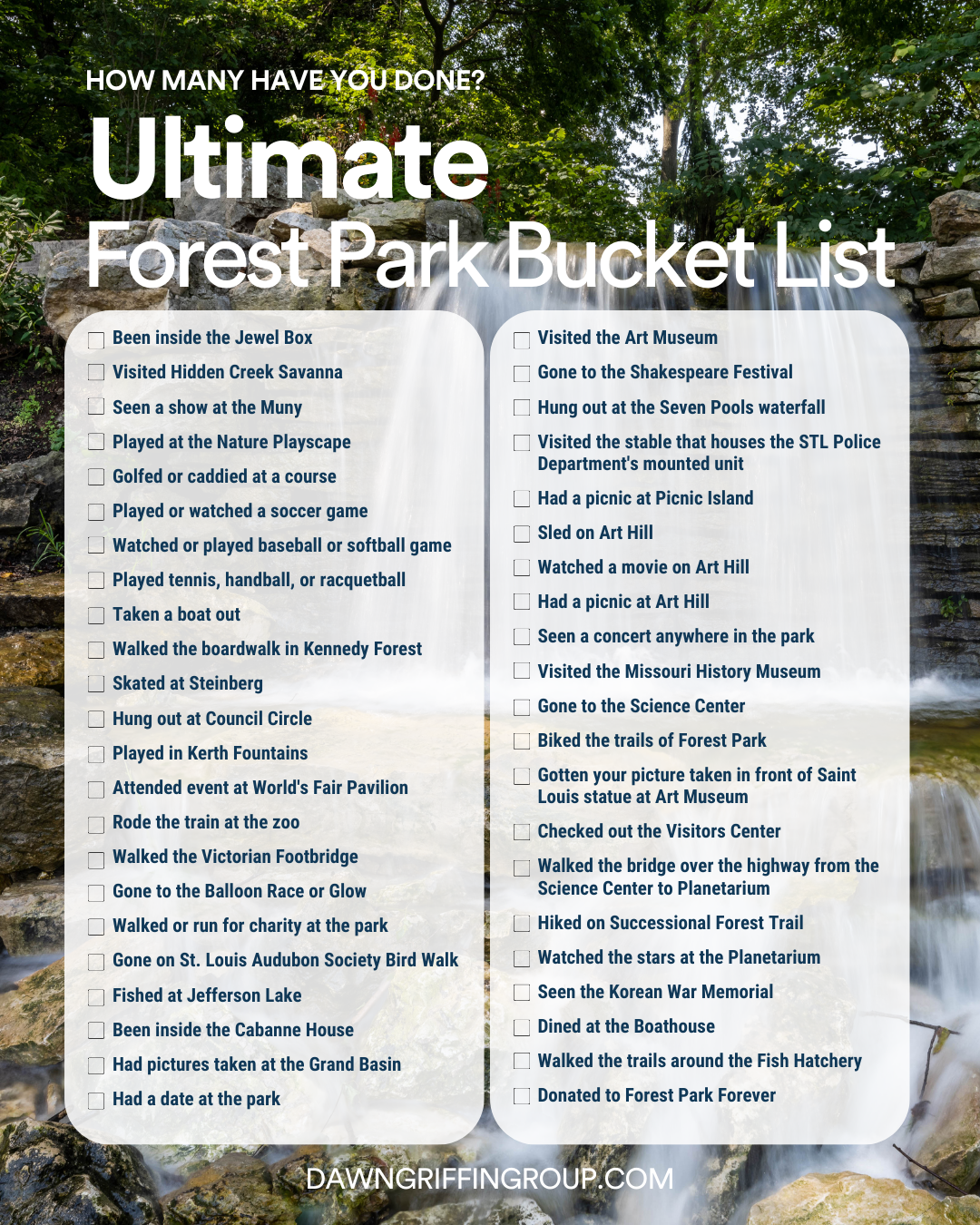 How many have you done? What's your favorite?