FREE Summer Fun in Kirkwood
My family is making a big move to Kirkwood, Missouri. Okay, it's really just 20 minutes and about 1.5 suburbs away. We're looking forward to taking advantage of all the FREE family-fun activities that Kirkwood offers. Some of these below are on our bucket list.
Kirkwood Festivals
Kirkwood Route 66 Festival
Saturday, June 11th, 2022
The City of Kirkwood will host its Route 66 Cars and Guitars Festival on June 11, 2022, in downtown Kirkwood. The festival's theme of "Cars and Guitars" speaks to the rich transportation and music history of the region. Live music and vintage vehicles will anchor this outdoor event. Most of Downtown Kirkwood's numerous stores, locally owned boutiques, and restaurants will be open during the event. Festival activities will be located on North Kirkwood Road and on the two blocks of Jefferson that intersect Kirkwood Road. (more info)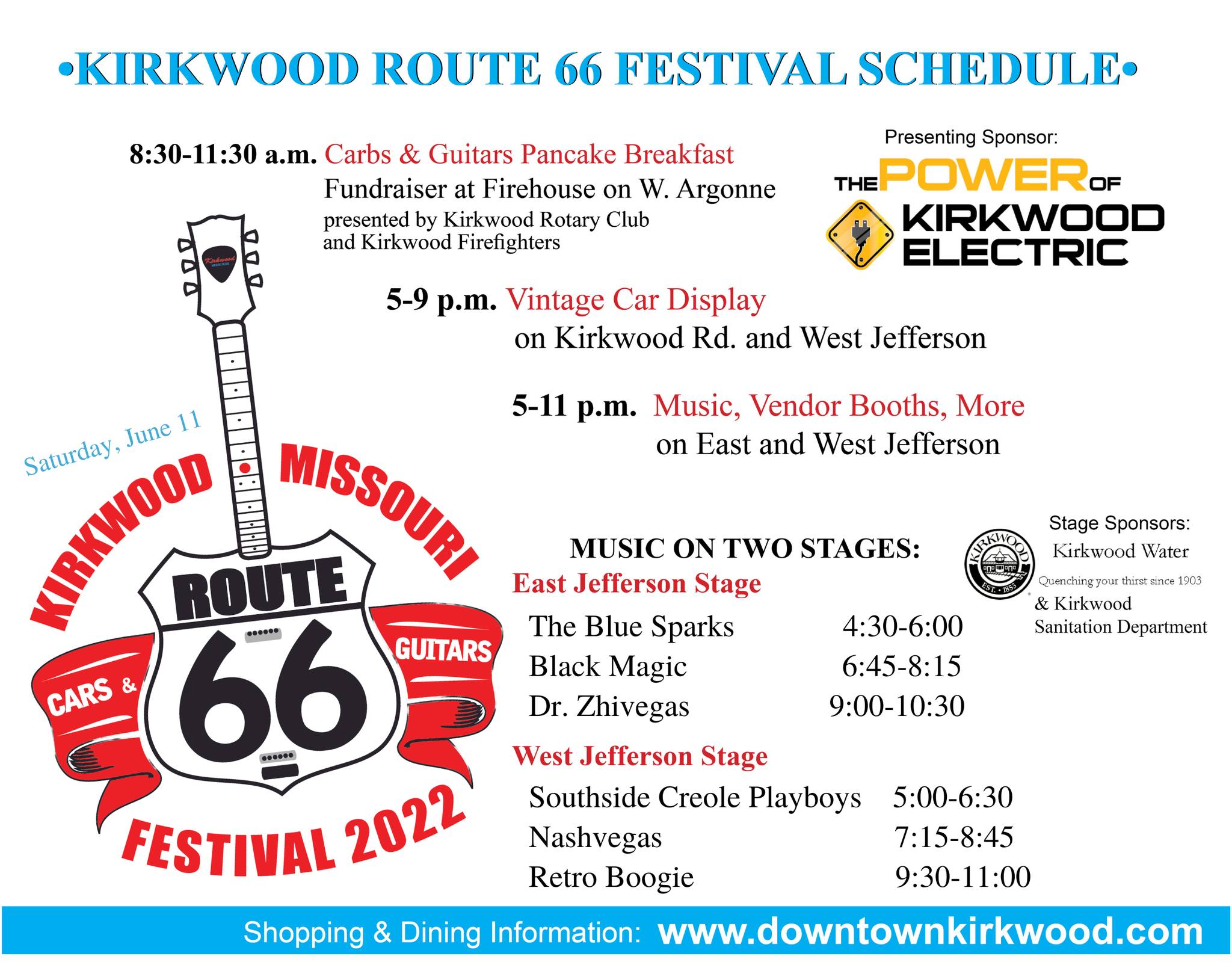 Kirkwood Farmers' Market Peach Festival
Activities will be bountiful during the Downtown Kirkwood Sidewalk Sale and Kirkwood Farmers' Market Peach Festival on Saturday, July 16. Visitors to Downtown Kirkwood will enjoy peach samples from local farmers as well as peach related treats and menu items at Kirkwood Farmers' Market. Music by Back Page Agenda throughout the day.
Saturday, July 16th
8:00 a.m. – Farmers' Market Opens
9:00-11:00 a.m. – Walk Away Waffles on site
10:00 a.m.-5:00 p.m./ Bargain Hunting: Downtown Kirkwood Sidewalk Sale
10:00-11:00 a.m. / Peach Tasting and Samples
10:00 a.m.-Noon / Peachy Samples at Kirkwood Farmers' Market
Kirkwood Freedom Festival & Fireworks
Kirkwood's annual July 4th celebration, known as the Freedom Festival, takes place on July 4th every year in Kirkwood Park. Food trucks and music with a culmination of a fireworks display at dark (more info)
Kirkwood Greentree Festival
This popular annual event takes place at Kirkwood Park. Includes parade, over 40 artisans demonstrating in the Folklife Festival area, arts & crafts booths, food, and more. (more info)
Friday, September 16: 5:00 to 10:00 p.m. (no arts & crafts booths)
Saturday, September 17: 9:00 a.m. to 7:00 p.m. (parade kicks off at 10:00 a.m.)
Sunday, September 18: 10:00 a.m. to 5:00 p.m.
Kirkwood Free Concerts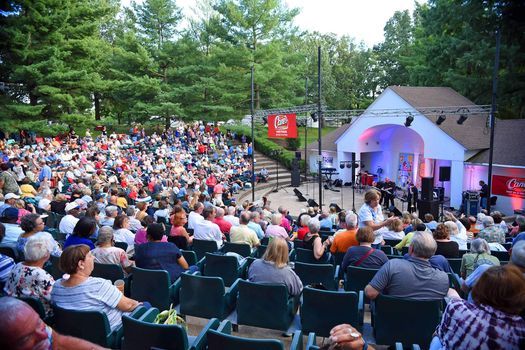 Kirkwood Making Music Concert Series
Enjoy a free concert from local bands select Saturdays, June – August, at the Lions Amphitheater in Kirkwood Park. Concerts are from 7:30 -9:30 p.m. (more info)
June 18 – Joanna Serenko
June 25 – STL Wind Symphony
July 9 – Riverbend
July 23 – Serapis
Aug. 13 – Ross Bell Band
Aug. 27 – Southside Creole Playboys
Downtown Kirkwood – Concerts at Station Plaza
Thursdays in June from 6:30-9:00 p.m. at Station Plaza. (more info)
June 2 – Rock Opera
June 9 – Matt Jordan
June 16 – Power Play
June 23 – School of Rock Kirkwood House Band
June 30 – Hulapoppers
Tunes @ Ten at the Kirkwood Farmers' Market
Bands play every other weekend at the Kirkwood Farmers" Market. Music is performed at the east end. (more info)
May 7 – Rewind
May 28 – Salt of the Earth
June 4 – Mississippi Crossing
June 18 – Salt of the Earth
July 2 – Mississippi Crossing
July 16 – Back Page Agenda
July 30 – Rewind
August 13 – Sadie Hawkins Day Band
August 27 – Southside Creole Playboys
September 10 – Fox Creek Band
Other Free Fun in Kirkwood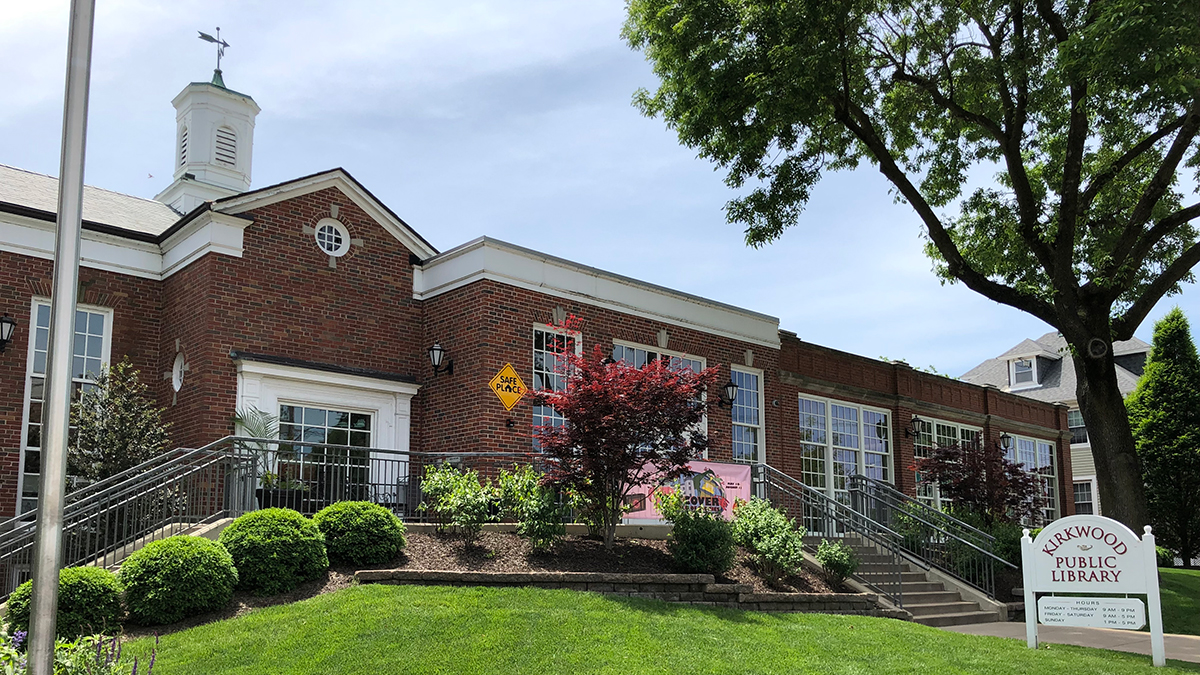 Family Nights at the Magic House
The Magic House hosts Emerson Free Family Nights every third Friday of the month. These special nights enable a family (up to two adults and four children) to visit the Museum at no cost. Reservations are required. Due to capacity regulations, space is limited. (more info)
Kirkwood Library
The Kirkwood Public Library has a ton of free programming for all ages. From bubble-making, to family game nights, to improv classes. Check out their extensive event calendar.
Power Valley Conservation Nature Center Summer Programs
Free summer programs offer close encounters with nature and fun hands-on activities at  11715 Cragwold Rd. Kirkwood, MO 63122. Programs run June through August and are approximately 45 minutes. Registration is on a first come, first served basis. (more info)
Summary
Want to know more about Kirkwood? Check out our Kirkwood Neighborhood Guide or contact me if you are considering moving here.