Shaw – Neighborhood Focus

The Shaw townhome at 3960 Cleveland was rehabbed in 2009. Careful attention was given to the restoration of its facade. We sold this home in 2020.
Shaw Neighborhood Spotlight
The Shaw Neighborhood is bordered by Interstate 44 to the north, the Missouri Botanical Gardens to the west. Tower Grove Park to the south and Grand Blvd on the east. Shaw is one of the oldest and most historically intact neighborhoods in the city. It is known for its tree-lined streets and Victorian architecture. There are roughly 3000 dwellings in Shaw with an estimated population of over 6,500. With restaurants, schools, churches, and shops dotted throughout the neighborhood and bordered by some of St. Louis's preeminent greens space, Shaw is considered one of the most walkable neighborhoods in St. Louis.
THE NEIGHBORHOOD FEEL OF SHAW
Shaw is a local historic district whose character and architectural integrity is protected by ordinance. Like many neighborhoods in St. Louis, the residents of Shaw feel passionate about their neighborhood as noted by the many SHAW stickers on the rear windows of cars. Shaw isn't just a location, it's an identity. In the last 10 years, property values in Shaw have more than doubled.  In 2009 the median sale price of a home in Shaw was $165,000 (per MLS stats) and in 2019, the median home sale price rose to $332,000 (per MLS stats). Monday through Friday you can see elementary school kids walking to St. Margaret of Scotland, City Garden Montessori and on weekends residents of all ages are out and about walking in the park, getting ice cream and coffee and meeting up for dinner at local restaurants.
FESTIVALS IN HISTORIC SHAW
Living in Shaw means easy access (no worries about parking!) to a multitude of activities and festivals that occur in Tower Grove Park such as the annual Festival of Nations.  Walk to the Farmer's Market or Food Truck Fridays or any number of free concerts that happen throughout the summer in the park.
The Botanical Gardens' popular Wednesday evening Whitaker Music Festival happens throughout the summer and fall brings the Japanese Festival and Best of Missouri Market.
SIGNATURE EVENTS IN HISTORIC SHAW
One of the signature events of the neighborhood is the Historic Shaw Art Fair held annually each October since 1993. Roughly 135 top artists and craftspeople from around the country participate in the professionally juried fair, which is organized by the Shaw Neighborhood Improvement Association (SNIA). The SNIA website is an excellent website for those considering moving into the neighborhood.
Restaurant, shopping, and Amenities in Shaw
Not only is housing undergoing renovation in Shaw, but businesses are also popping up. Shaw residents and visitors to Shaw are able to enjoy
Sasha's on Shaw – 4069 Shaw
Wine, cheese plates & other snacks are served in a comfortable, eclectic setting with a fireplace.
Five Aces BBQ – 4000 Shaw
Five Aces is known for its delicious array of meats and side dishes that are seasoned to perfection. Five Aces is a family-owned and operated business that takes pride in its delicious NO SALT seasoning technique.
Ices Plain and Fancy – 2256 S 39th St
You'll get a real feel for the neighborhood when you enjoy a treat from Ices Plain and Fancy from their outdoor seating. Buzzy ice cream shop offering flash-churned liquid-nitrogen creations, frozen cocktails & coffee.
SweetArt Bakeshop & Art Studio – 2203 S 39th St
Baker Reine Bayoc and her artist husband, Cbabi Bayoc, joined forces to create this magnificent cafe. Adorned with colorful art, this eclectic spot produces sweets and baked goods that are hard to beat. Several vegan and vegetarian options. A neighborhood highlight.
Thurman's in Shaw – 4069 Shenandoah Ave
Neighborhood eatery featuring Mexican street food and live jazz on Thursday, Friday, and Saturday nights.
Fiddlehead Fern Cafe – 4066 Russell Blvd
A 4th-generation lifelong resident of the Shaw opened this cafe featuring fresh, seasonal botanical ingredients. Bright and cheerful.
Bonboni – 2246 Klemm St
Housed in a former 120-year-old candy shop, this gem was named "Most Beautiful Store in Missouri" by Architectural Digest. It features a collection of home and gift items that are a mix of new, old, crafted, and salvaged.
The Social Goods Marketplace – 4002 Shenandoah
Opening in spring of 2021, The Social Goods Marketplace provides home, body, and lifestyle goods informed by sustainability, social justice, and self-care.
Wild Carrot – 3901 Shaw Blvd
Wild Carrot is an untraditional event space in the Shaw Neighborhood that provides mixed style seating for weddings and events. You'll want to check their calendar for unique shopping and dining pop-ups.
Wild Olive Provisions – 2201 S 39th
Specializing in Australian and California wines this is a great place for quiet conversation with friends or pick up everything you need for entertaining at home.
Shaw Neighborhood Housing STOCK & STATS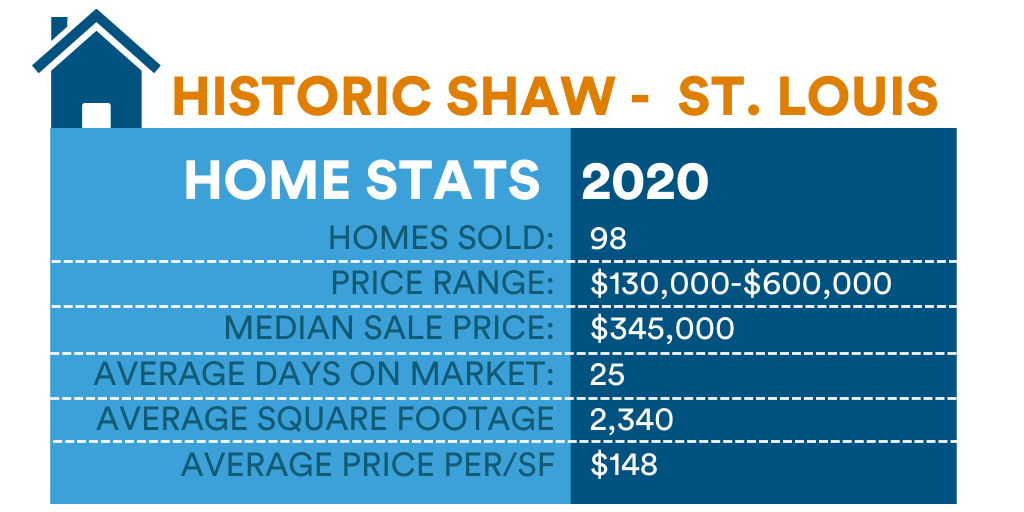 Fun Fact: On average, homes sold in Shaw from March 2020 – March 2021 received 100% of their list price.
Fun Fact: Only 8 of the 98 sold properties were 2 bedroom homes.  Average price for a 2 bedroom home in Shaw was $200,666.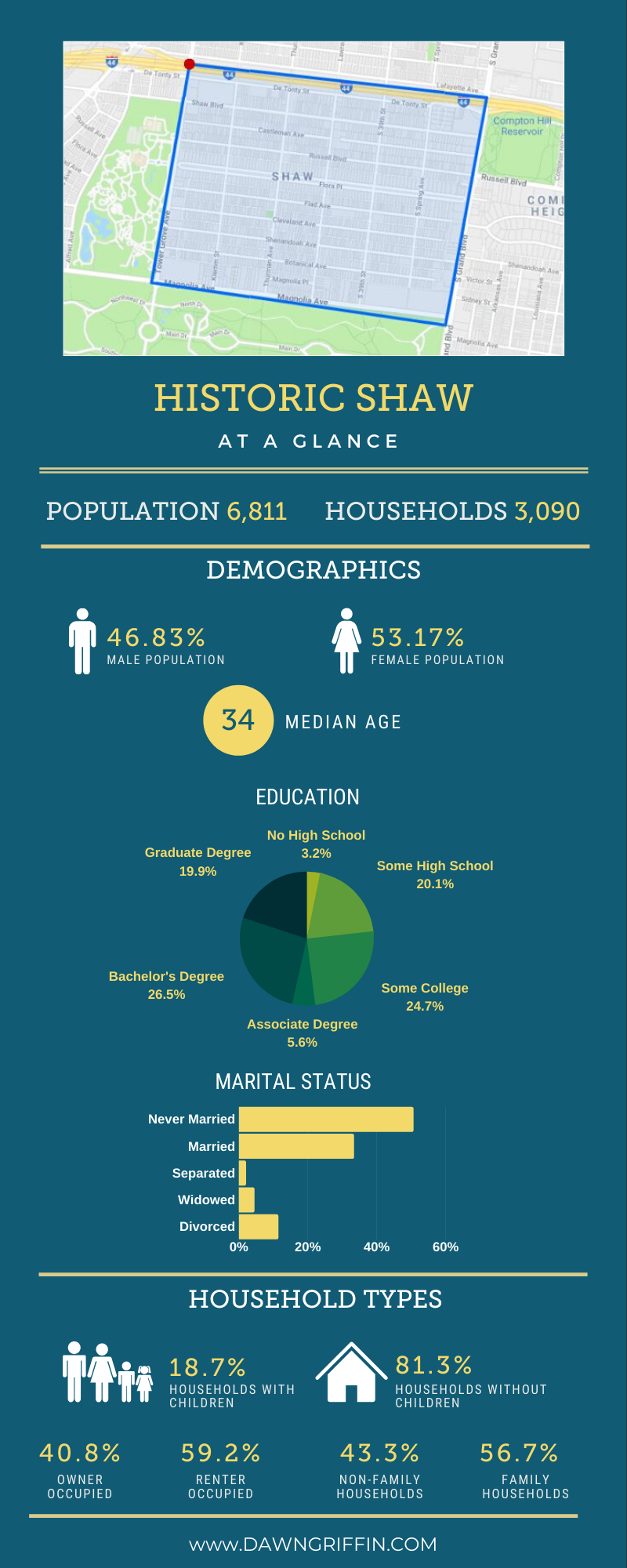 *Demographic information from 2010 census and the 2017 American Community Survey and is deemed reliable but is not guaranteed.