B&B and Airbnb Options in Tower Grove
The B&B Industry has an estimated worth of $3.4 billion. The core of this starts with the estimated 17,000 inns in the United States. Bed and Breakfast Inns have been a tradition for lodging for many years and trends in the B&B industry are continually evolving. Airbnb, launched in 2008, has over 600,000 listings in the United States.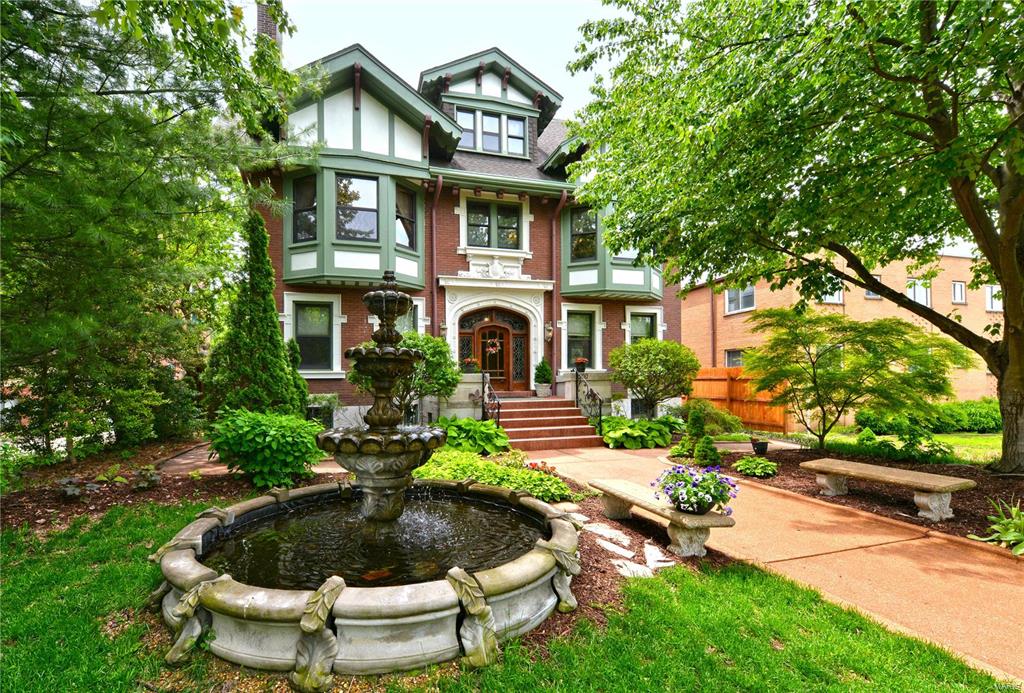 In today's lodging industry online marketplaces like Airbnb, VRBO, Booking.com and others have upended how consumers book travel and have shifted expectations in a multitude of ways.  There are ardent fans and critics online lodging marketplaces, but their impact cannot be overstated. Some feel that the personal touches, once a hallmark of the Airbnb experience, are disappearing as landlords cash in and outsource property management.
B&B owners are adopting new strategies to attract younger travelers and compete in a shifting market while trying to retain their personal touches. One survey showed that 76% of Millennials said a friends' recommendations was the main reason they went with a particular vacation decision. B&B owners with a comprehensive social media strategy are faring better over slow adopters. Many are blending modern high-end pampering with unique hyper-local experiences focused on local cuisine, museums, hiking, etc.
The Airbnb Market in Tower GroveA quick search on Airbnb shows three lodging options within one block of Tower Grove Park with prices ranging from $71-140. Additional locations farther South vary in price based on whether they are rooms within a private residence or full apartment/home rentals.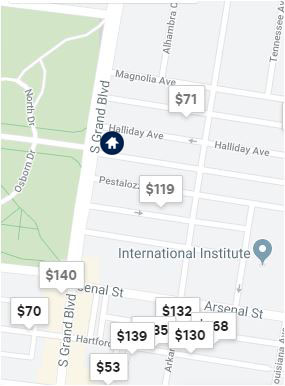 Airdna, a site that analyzes data on vacation rentals listed on Airbnb, HomeAway, and VRBO, indicates that there are 75 active rentals in Tower Grove East and the rental growth has been steadily rising over the past three years.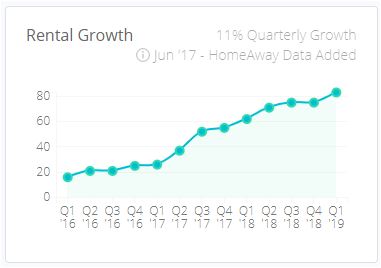 In 2018, Missouri hosts made $48 million in supplemental income while welcoming 483,000 guests. That's up from $28.8 million and 289,000 guests in 2017. St. Louis led the state with $14 million.
$20,619 is the average expected annual profit of Airbnb hosts renting out a full two-bedroom apartment or house in major cities.
The fastest-growing Airbnb host demographic is seniors, with over 200,000 senior hosts and over 120,000 senior women hosts. Senior women are also consistently rated as the best hosts on Airbnb.
Crafting a St. Louis Experience
Food Tours
In just the six blocks of South Grand you can experience cuisines from 14 countries including Brazil, China, Ethiopia, France, Italy, Japan, Lebanon, Morocco, Iran, the Philippines, Thailand, Turkey, the U.S., and Vietnam. An international grocery store, many vegetarian-friendly spots, coffee shops, ice cream parlors, and bars – there is truly something for everyone. Food and Wine Magazine and Forbes both recently recognized St. Louis as a top city for food. EAT Food Tours and Savor Food Tours are two local companies that provide walking tours of neighborhood dining scenes. Sauce Magazine and Feast Magazine cover the local dining scene extensively.
MicroBrew Tours of St. Louis
Home to Anheuser Busch Brewery (and now Anheuser-Busch InBev) for over 165 years, St. Louis has long been a beer city. According to a USA Today readers' poll, St. Louis came out on top of the balloting for "Best Beer Scene 2019," for the second year in a row. The criteria included selections of established and new breweries; beer bars and brewpubs; beer festivals; and home-brewing activity. Brew Hop STL offers fun, educational craft beer tours. STLToday put together 6 routes to help you experience the St. Louis craft beer scene. You provide the designated driver and/or bus.
Architecture & History Tours
Visitors quickly come to appreciate the architecture of St. Louis. The region was underlain by dozens of high-quality clay deposits and immigrant groups in Dogtown and the Hill worked the clay mines so bricks were highly abundant. After a major fire in 1849 destroyed a third of the city a local ordinance forbade the construction of wooden buildings, and St. Louis became even more predominantly brick. But historic brick construction is just one part of the city's rich architectural character. Several local companies provide a variety of architecture tours that combine detailed and fascinating historical context.
RenegadeSTL, recently featured in The New York Times, offers "fresh, original, off-beat tours of the kick-ass history and grand architecture of St. Louis". We went on a walking tour of Forest Park with RenegadeSTL last year and not only saw parts of the park we'd never seen but learned so much history beyond the normal and expected scope. We highly recommend.
We've also had the pleasure of a private architecture tour with Michael Allen, Director and Principal Architectural Historian of The Preservation Research Office. Michael "unpacks the embedded histories of capital, labor struggle, racial segregation, regionalism in architecture, urban renewal and deeper colonial pasts" in his tours – he's a researcher and historian and heart and his passion comes through in his highly engaging tours. Again, highly recommend.
The Landmarks Association offers two regularly-scheduled tours on Saturday at 10 am from April 1 to October 31 for Downtown East and Downtown West and also offers special tours of Grand Center and Washington Avenue. We haven't been, but have heard they are great, plus they have the added convenience of being regularly scheduled.
These are just a few quick ideas on how to put together an amazing experience for visitors to St. Louis. Whether guests are staying at your Bed and Breakfast, Airbnb, or the spare room in your basement (hello out-of-state cousin!) – our city provides an amazing breadth of culture, architecture, food, sports, and entertainment.
Summary
If you have ever considered opening a Bed and Breakfast or Airbnb, contact us. We have clients who are hosts and can help answer questions for you.