Domino Move – Adam & Sarah's Buy & Sell Scenario
As part of our continuing series on buying and selling at the same time, we will look at a Tower Grove couple who decided to buy a new home before listing their existing home. Meet Adam and Sarah.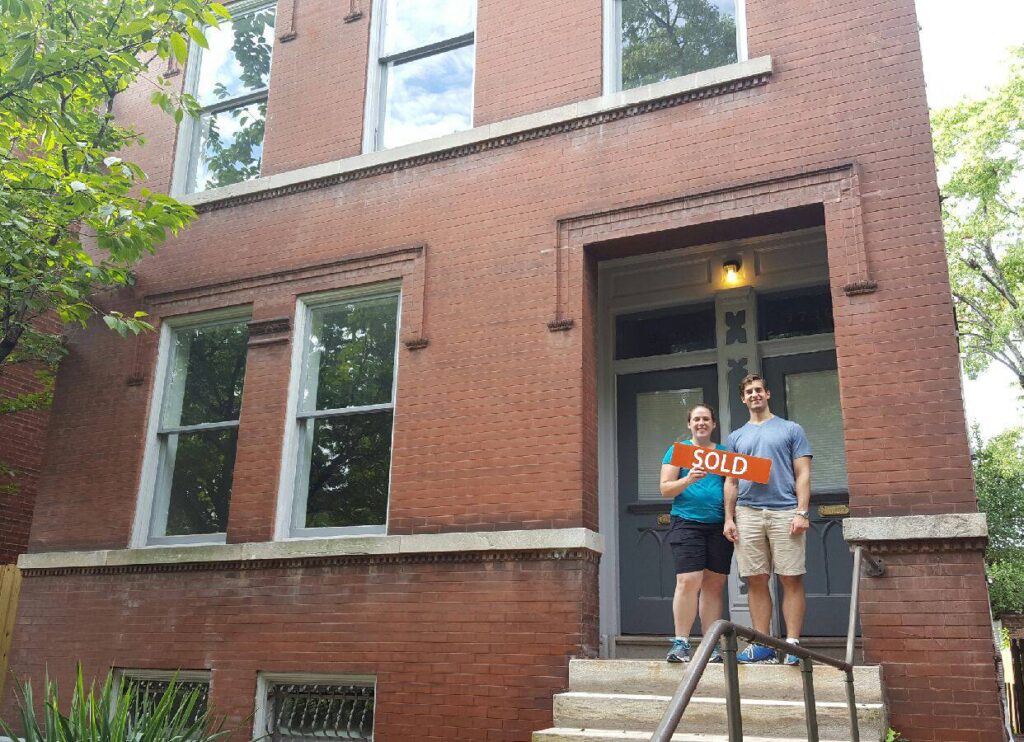 BACKGROUND
When Adam and Sarah bought their first home, they purchased in St. Louis County near where they both worked. The spacious ranch offered plenty of space to entertain and had enough yard for Sarah to experiment with gardening projects. But the young couple eventually decided they wanted to be closer to the city's cultural amenities and in a walkable neighborhood. And with their work schedules and love of travel, the large yard was becoming more of a chore than an enjoyable hobby.
Key to Success in This Situation: This scenario requires a good understanding of the timing up front. As soon as an offer to buy is accepted, most clients want to get their existing home on the market ASAP to avoid paying two mortgage payments. It can be stressful if the house takes longer to sell than anticipated. Our clients (an engineer and a business analyst) had stellar organization and project management skills, which sort of made them dream clients. We think you'll love their tips.
IN THEIR OWN WORDS
What was your biggest concern when you decided to sell your home and buy a new one?
We knew we wanted to move into the city, but we had no pressing timeline, and we were set on finding the exact right house for us.  Knowing that the market was pretty hot, our biggest fear was putting our house on the market and it selling before we were able to find the right home.  For this reason, we decided we wanted to have a near "done deal" for the house we were buying before listing our home.
What were the pros and cons of buying first and listing later?
On the negative side, because we held out for the right house before putting ours on the market, we missed peak selling season, and while we knew what we could afford, it seemed like as soon as the paperwork for that second mortgage was signed, every viewing seemed critical.  Then, the first couple offers were much lower than we expected. Ouf. But the right buyer came along with the right offer, and we were all good.  On the plus side, we were always ready for a showing.  We moved the majority of our things to our new home, leaving just a few rooms staged.  I also think that the whole process can be pretty emotional – both buying and selling.  On one hand, this emotional stress went on a little longer in our situation, but it also was not all happening at the same time.  I think the time may have given us the ability to continue with rational, practical decisions, rather than emotionally charged ones.
Did you have a strong idea about where you wanted to be? Or were you open to different neighborhoods? What were the main things on your wish list? 
We thought we wanted to be in University City or the Central West End, but as we explored each area, Lance really listened to our location critiques on houses in those areas and suggested that we consider some houses in Shaw and Tower Grove South.  We wanted a business/restaurant district within walking distance, and in our mind, that meant less than a mile.  We ended up in Tower Grove Heights, and absolutely love the community, regularly run and stroll through Tower Grove Park, and enjoy the beautiful selection of foods available on Grand.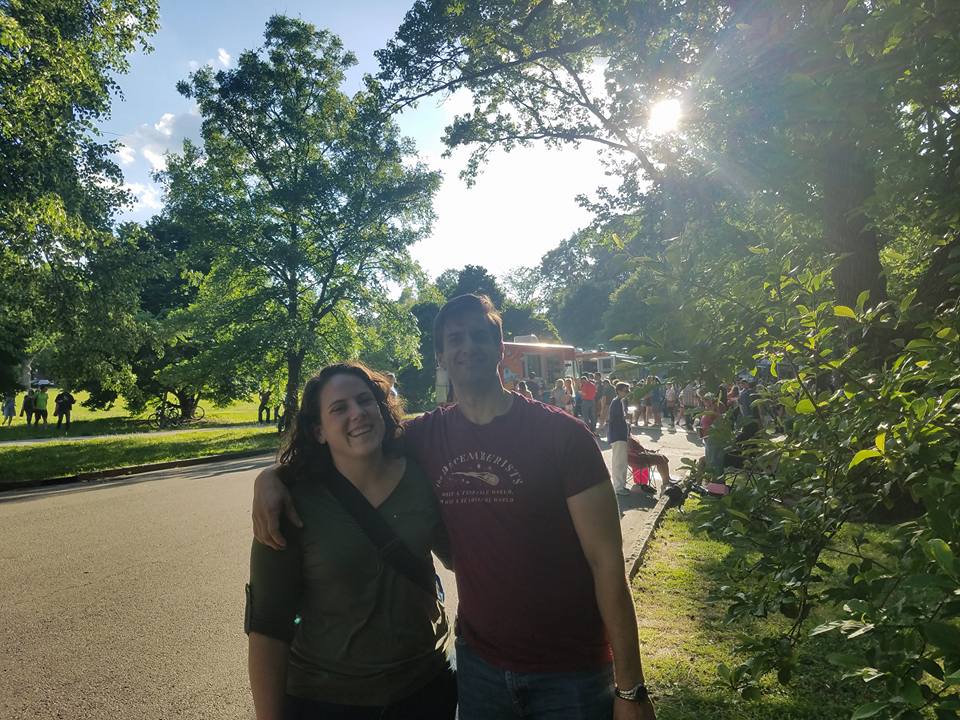 How long did you look for current home? 
We took about 3 months to find the right house.  It started slow and then seemed like a frenzy, like finding a house was all I was concerned with as the time went on. I think everyone's situation is different, but for us, the right house was worth however much time it took to find it.
Once under contract, how did you stay organized? How did you know what to do and when to do it?
We created a folder on Google Drive where we saved everything that we had to provide to someone else or someone else provided to us.  If we got anything on paper, one of us would scan it and add it to the documents, so we always knew we could find it later (and it wouldn't be shoved in a box somewhere!). I did have a few custom spreadsheets that wowed Dawn's team. I created a cleaning checklist and taped a copy in each room. It had everything from cleaning the blinds to touching up the paint on it. Not only did we make sure everything got done, but it also helped us mentally because we didn't have to keep track in our heads and we could feel a sense of accomplishment.
On our first home, when the inspector went through, he departed a lot of knowledge that my husband and I wished we had written down, so we were prepared this time around.  We had our own clipboard as we went through the house, and later we took the inspectors' notes along with our own and compiled a big list in Excel.  The home was just remodeled and so typically, there were small things that needed attention, from missing can-lights to an improperly installed hood fan, in addition to the home inspection things that sometimes pop up.  I put all of these into a list in Excel, rated them either "need", "want", or "wish", and then passed that to Lance.  He gave us a list of the things we should get estimates for, we followed through, adding that information in the list.  When we started the negotiation around what would or would not be done by the sellers, we had a great document to use as reference without a lot of paper shuffling.
Can you describe the moving process? When did you pack? When did you move? Where did you sleep? What was the biggest challenge on moving day?
We started with packing and de-cluttering not long after talking to Dawn and Andrea about the moving process.  We had a large, unfinished space in the basement, so we neatly stacked boxes along the back wall, where they would not detract from the space but be out of the way.  After closing on the new place, any time we would go to the new house, we usually packed the car as full as possible, and sometimes drove separately with two packed cars.  On Labor Day weekend, we did a major move, getting most of the furniture out of the house.  With just the two of us, my aunt, and a Uhaul, we got nearly everything completed with the exception of major furniture being used to stage the house.  When I woke up that morning, I didn't realize that would be the last night I would sleep in that house, but it was.  After moving all day, we had everything we needed to start living in the new place, and so we did.  Several weeks later, we paid movers to move the remaining "staged" furniture from the old house when we were just a week or so from selling the house.
The biggest struggle was possibly dragging out the move over a few months.  It worked out ok, but we went without living room furniture for about three months, and were hesitant to start buying anything new until we knew what would or wouldn't work in our new space.
What is the best advice you can give to someone who is about sell and buy simultaneously?
If you are like us, and chose to buy your new home before listing yours so you had time and could be patient for the right house, remember that patience needs to apply to the whole process, not just the shopping.  And if you're not listing until you've found a house, start preparing your house to sell right now.  Touch up the paint, replace that stained carpet, start the Goodwill pile, pick a weekend for a yard sale – don't wait.  Once you have that second house, you'll want to spend your time there, and time will be critical for getting your current house in tip-top order for the viewings to come.