Getting A House Ready for Market
Getting your house ready for market is perhaps one of the toughest parts of the process. It takes a lot of effort to get a house show-ready. It begins with packing and cleaning. But can also include small and sometimes big projects.  Below is a list I made for one of my clients recently. It took me a little over an hour to walk through the house and make the list. It took the owners about three weeks to accomplish everything on it.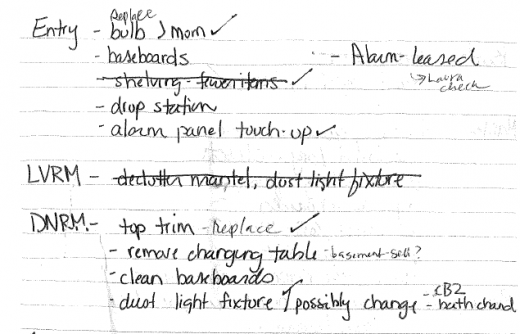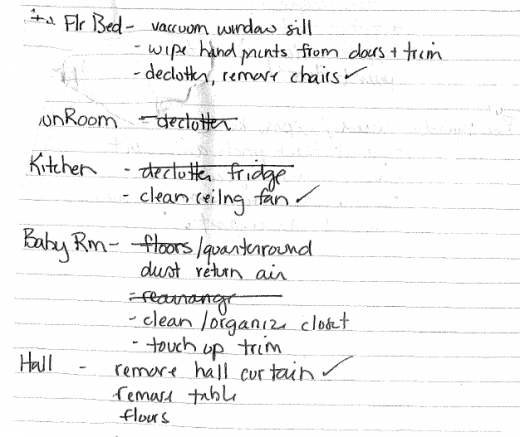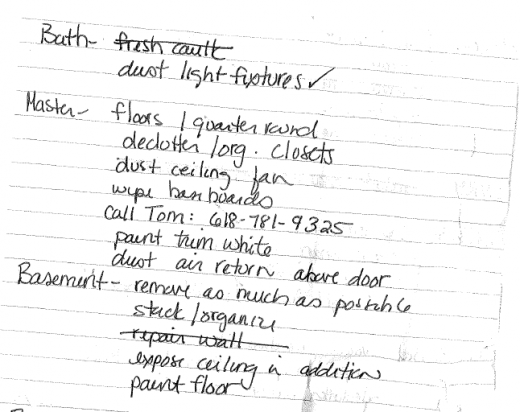 The bigger projects on that list included refinishing the wood floors, weeding the overgrown brick patio and painting all the trim. Some of this the sellers could do themselves; some of it needed the help of a professional. The owners invested a lot of time and money getting their place ready to go on the market. But they are serious about selling and they know this is a tough market.
Truths for Every Listing
First, you are moving, so pack your things. May as well get a head start on this and start boxing your belongings and getting them out of the way. This is what agents mean when they say DE-CLUTTER.
Second, no one wants to buy your dirt. If you are not good at cleaning or just don't like it, call a professional. A deep clean will go a long way with the buying public.
Dust and Wipe all the baseboard
Dust and Wipe all the ceiling fan blades
Dust and Wipe all the air return ducts
Pack and Organize the Basement
Wipe the light switch covers and door knobs
Clean the windows
Scrub every corner of the bathroom(s) and kitchen (including inside of refrigerator, microwave and stove)
Third, it's time to get to work on the all the little projects that you intended to do for yourself. For instance, if you ripped up the carpet in the bedroom, but never got around to re-finishing the floor, now is the time to complete that project.