Housing Market Forecasts for the Next 5 Years
Whether you are house hunting or are a current home owner, keeping up with housing market forecasts is an important part of tracking your overall financial success. In this article, we take a deep dive into predictions on mortgage rates, home prices, market shifts, building trends and more. Find out what analysts at the National Association of Realtors and the National Association of Home Builders predict and what it means for buyers and sellers.
Current Housing Market Quick Facts
Home sale prices
The country's median existing-home sale price in July 2023 was $406,700, according to the National Association of Realtors (NAR) — their highest July price on record. For new-construction homes, National Association of Homebuilders (NAHB) data shows that July's median sale price was slightly higher at $436,700.
Inventory
The supply of homes for sale remains quite low, per NAR data. Though higher than it was a year ago, the inventory of unsold existing homes was at a 3.3-month supply in July; a balanced market would require a 5- to 6-month supply.
Days on market
Homes are taking longer to sell as the higher mortgage rates are putting a purchase out of reach for many. In July, the median length of times homes spent on the market was 20 days, per NAR. That's quite a jump from 14 days in July of last year.
Homes sold
Fewer existing homes are selling nationwide too, as many homeowners choose to stay put with locked-in mortgage rates much lower than current rates. Per NAR, the number of sales in July was down more than 16 percent year-over-year, Meanwhile, sales of new single-family homes rose 4.4 percent in July versus June, per NAHB data.
Mortgage rates
According to a national survey of large lenders, the average 30-year mortgage rate as of late August was 7.32 percent, a high not seen since 2001.
Mortgage Rate Forecasts
Lawrence Yun, Chief Economist for the National Association of Realtors, suggests that mortgage interest rates may continue rising. He anticipates a general rate of around 7 percent for the remainder of this year and most of 2024. Within two years, he envisions the rate returning to 5.5 or 6 percent.
Due to the elevated rates, Yun foresees a growing interest in adjustable-rate mortgages in the coming year. Nevertheless, he anticipates that 90 percent of Americans will revert to the traditional 30-year fixed-rate mortgage after that period. Most financial analysts agree that the 30-year fixed-rate mortgage will remain the dominant choice. It offers the certainty borrowers desire, is attractive to investors, and enjoys a robust secondary market with global investors eager to purchase them.
Home Price Predictions
Regarding home prices on a national scale, Yun expects minimal changes next year, with fluctuations of only around 5 percent either way. The exception is California, where he predicts potential 10 percent declines, attributing this vulnerability to the state's high costs. Yun anticipates an overall price appreciation of 15–25 percent over the next five years.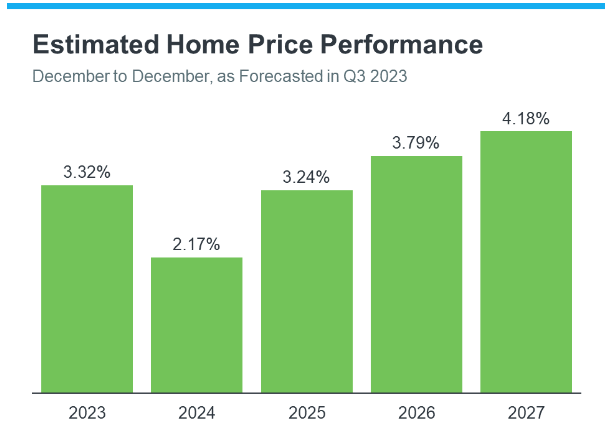 Housing Market Bubble
Despite displaying bubble-like traits, Yun does not foresee a bursting of the residential real estate market. He anticipates a temporary low in sales next year, with only 5.3 million units sold, but foresees a gradual increase, reaching an annual total of 6 million units by 2027. Yun points out that even with current higher mortgage rates, home prices remain robust. A 5 percent decrease (or 10 percent in California) next year, according to him, does not constitute a crash, as true crashes involve a one-third drop.
To substantiate his point, Yun emphasizes, "A crash happens with oversupply." He asserts that a 30 percent decrease is unlikely due to insufficient inventory, and he predicts a balance in housing supply within five years.
A crash happens with oversupply. It will not happen because there isn't enough inventory.
Numerous experts concur that an imminent housing market crash is unlikely. Yun's assessment of insufficient inventory aligns with this perspective, and today's stricter lending standards compared to the Great Recession era contribute to lower foreclosure rates.
Shift to a Buyers Market
Regarding the shift to a buyer's market, Yun expects the current seller's market to persist as long as housing inventory remains limited. However, he envisions a more balanced market five years from now, with neither buyers nor sellers holding a significant advantage. Instead, negotiating power will depend on individual circumstances.
Building Trends and Forecasts
Yun predicts that the suburban market will remain strong as hybrid work schedules become the norm, and commuting time is not as relevant. He expects growth in areas with rising populations, such as the Carolinas, Florida, Texas, and Tennessee. The National Association of Home Builders (NAHB) reports that 50 percent of new single-family construction is in the South.
The number of single-family homes under construction decreased at the end of 2022. In contrast, the number of multi-family homes under construction has been increasing over the last few years. This growth could be in part to their lower price tags and the pressure on municipalities to relieve shortages and provide more affordable housing. However, with high mortgage rates and inflationary building material prices, the NAHB expects the multi-family market's growth to stabilize within a few years.
Bottom Line on Housing Market Forecasts
According to the experts, home prices are expected to grow over the next five years at a more normal pace. Price appreciation raises your home's value, and that grows your household wealth. If you're ready to become a homeowner, know that buying today can set you up for long-term success as home values (and your own net worth) grow. Connect with us if you have questions or are ready to start the process.