Guide to Used, Vintage, and Antique Furnishings in St. Louis
In a world increasingly focused on sustainability and conscious living, vintage and antique furnishings have found renewed favor among homeowners. They not only appeal to those just starting out in their homeownership journey but also resonate with long-time homeowners looking to update or freshen up their living spaces. Beyond their undeniable charm and historical significance, these pieces align seamlessly with green living principles, offering an eco-friendly alternative to mass-produced furniture and contributing to the reduction of consumption. Whether you're a seasoned collector or a newbie in the world of vintage and antique shopping, this St. Louis Guide to Used, Vintage, and Antique Furnishings will provide you with valuable tips for making informed purchases and scoring great deals.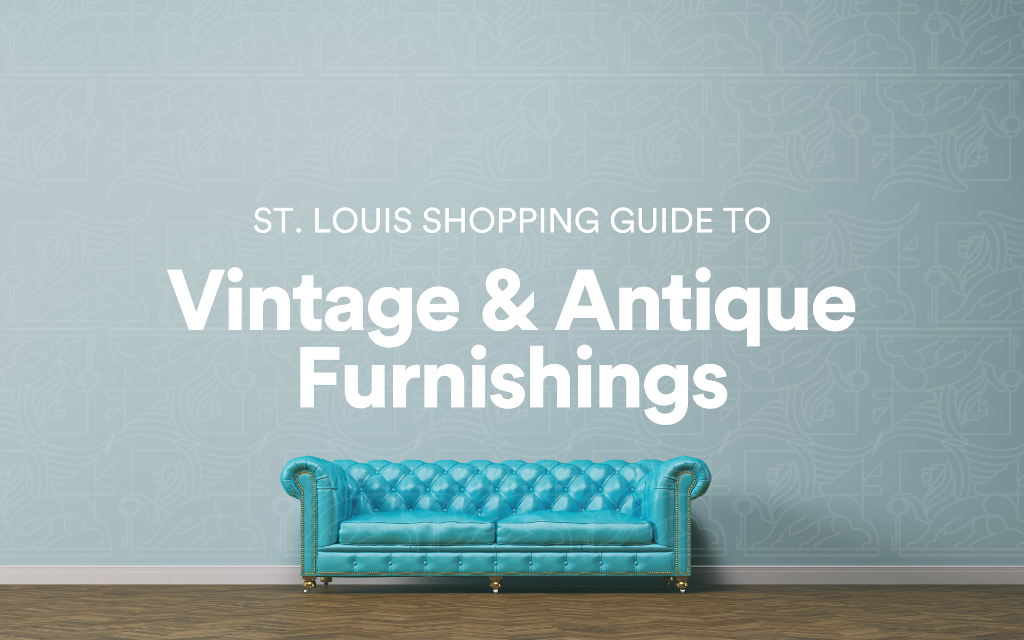 What to Look For in Used, Vintage, and Antique Home Furnishings
Authenticity: Research and educate yourself on the styles and time periods of the furniture or accessories you're interested in. Knowing what genuine pieces look like is crucial.
Look for labels, markings, or signatures from renowned makers or designers. These can significantly enhance the value of an item.
Condition: Carefully inspect the item for signs of wear, damage, or alterations. Some wear is expected in vintage or antique items, but excessive damage can affect both the aesthetics and value. Pay attention to structural integrity. Ensure that drawers, doors, and joints are sturdy.
Patina: The natural aging process can create a beautiful patina on wood and metal. Don't be discouraged by minor imperfections; they often add character to vintage pieces.
Materials: Quality materials tend to stand the test of time. Solid wood, hand-crafted details, and original upholstery are indicators of well-made vintage furniture.
Provenance: Try to gather as much information as possible about the item's history. Pieces with interesting stories or a documented provenance often have higher value.
What to Avoid
Reproductions: Be cautious of items labeled as "vintage-style" or "antique-inspired." These are usually modern reproductions made to mimic older designs. However, you don't necessarily have to avoid them, but don't pay "antique" price for a reproduction piece.
Overpriced Items: Don't rush into a purchase without researching the market value of similar items. Overpriced pieces can be found even in reputable antique stores.
Inauthentic "Antiques": Be wary of sellers claiming that their item is an antique when it's not. An authentic antique should be at least 100 years old.
Items in Poor Condition: Avoid pieces that require extensive restoration, unless you're prepared for the cost and effort involved in bringing them back to life.
How to Spot a Good Deal
Bargain and Negotiate: Don't be afraid to haggle with the seller. Many vintage and antique dealers are open to negotiation, and you might get a better deal than the initial asking price.
Visit Thrift Stores and Estate Sales: Thrift stores and estate sales often have hidden gems at affordable prices. Keep an eye on local listings and estate sale companies for upcoming events. EstateSales.net is a great resource.
Online Marketplaces: Platforms like eBay, Etsy, Chairish, and 1stDibs offer a wide range of vintage and antique items. Read seller reviews and descriptions carefully, and don't forget to factor in shipping costs. Design guru Emily Henderson has a great article with more online resources you can check out.
Antique Shows and Fairs: Attending antique shows and fairs can be an excellent way to discover unique pieces and connect with knowledgeable dealers.
Resources for Price Checking
Online Price Guides: Websites like Kovels and Antique Trader provide price estimates for various vintage and antique items.
Auction House Catalogs: Auction houses often publish catalogs with detailed descriptions and estimated values of items in upcoming auctions, which can be valuable resources for pricing.
Antique Appraisers: Consider hiring a professional antique appraiser to assess the value of a specific item, especially if you're planning to make a significant investment.
St. Louis Area Antique Districts
Cherokee Antique Row
The six blocks of Cherokee Street's Antique Row (1900-2300 Cherokee) is home to more than 30 stores offering a plethora of vintage finds. Unique lamps and lighting fixtures, furniture, artwork, and other treasures. Plan to spend the day at this premier district.
Alton & Belleville
Just across the river you'll find the Alton Antiques District, with over over two dozen shops. On the third weekend of every month, the Belleville Flea Market at the St. Clair Fairgrounds event center. With 300-400 vendors it is one of the more popular markets of the area.
St. Charles & frenchtown
The 10 blocks of Historic Main Street features 125 shops with a variety of art, collectibles, furniture, and more. More treasures can be found just north of Main Street in the Frenchtown District.
St. Louis Area Antique Malls
The hill antique market
The Hill Antique Market – 4923 Daggett Avenue, St. Louis, MO 63110
Features over 75 vendors offering antique furniture, salvage, industrial fixtures, textiles, clothing, jewelry, collectibles, retro home decor, and more.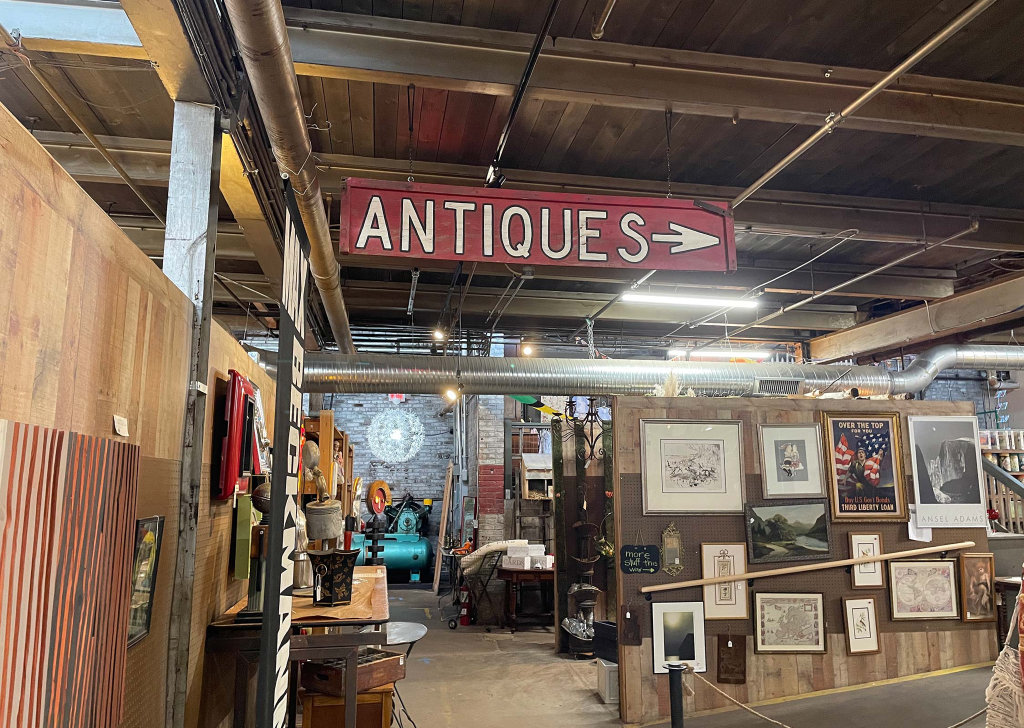 warson woods antique gallery
Warson Woods Antiques Gallery – 10091 Manchester Road, St. Louis, MO 63122
For 25 years, Warson Woods Antiques Gallery has been recognized as the place to shop for antique, vintage, and collectible objects. 150 dealers offering a breathtaking variety of items.
green shag market
Green Shag Market – 5733 Manchester, St. Louis, MO 63110
Listed as Missouri's "Best Thrift Store" by Apartment Therapy, The Green Shag Market is a unique antique mall style store with multiple vendors stocking the store with the areas greatest vintage, boho, mid-century, and antique finds.
treasure aisles antique mall
Treasure Aisles Antique Mall – 2317 S. Big Bend, St. Louis, MO 63143
Newly expanded into the building next store, Maplewood's Treasure Aisles features home furnishings and accessories from primitives to the 60's. Glassware, pottery, paintings, furniture, and more.
south county antique mall
South County Antique Mall – 13208 Tesson Ferry Road, St. Louis, MO 63128
One of the largest and longest-running multi-dealer antiques and collectibles store in the country. Over 50,000 square feet and 400 display booths.
st. charles antique mall
St. Charles Antique Mall – 3004 S. Saint Peters Parkway, St. Charles, MO 63303
200+ dealers offering a large variety of antique and vintage items for the home.
Notable Antique & Vintage Shops in St. Louis
Cool Stuff – 5707 Manchester, St. Louis, MO 63110
Unique and eclectic furniture, lighting, and gifts.
SoJeff Retro – 2623 Cherokee, St. Louis, MO 63118
Focus on furniture from antiques, mid-century, and pieces ready for DIY.
The Emporium – 9410 Manchester, St. Louis, MO 63119
Operating since 1956, the Emporium features everything from 17th century antiques to more recent vintage pieces.
Robert Morrissey Antiques & Fine Art – 704 Hanley Industrial Court, St. Louis, MO 63144
Specializing in 18th and early 19th century European furniture and objects for over 40 years.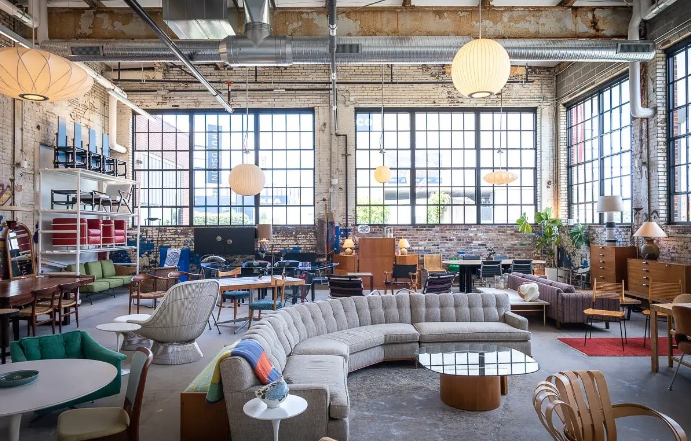 ---
In conclusion, buying used vintage and antique furniture and home accessories can be an exciting and rewarding experience. With the right knowledge and careful consideration, you can find unique pieces that not only enhance your home's aesthetics but also tell captivating stories of the past. Remember to take your time, do your research, and always trust your instincts when making a purchase. Funky can be just as at home and something refined. Happy antiquing!