Tax-Free Weekend Returns on August 4-6!
As summer reaches its peak, savvy back-to-school shoppers are eagerly preparing for a much-awaited event that can help them stretch their dollars further. Yes, it's that time of the year again – the Tax-Free Weekend in Missouri! From August 4th to 6th, residents and visitors alike will have the golden opportunity to enjoy a shopping spree while paying no sales tax on certain eligible items. Let's dive into the details of this exciting event and explore how you can make the most of it.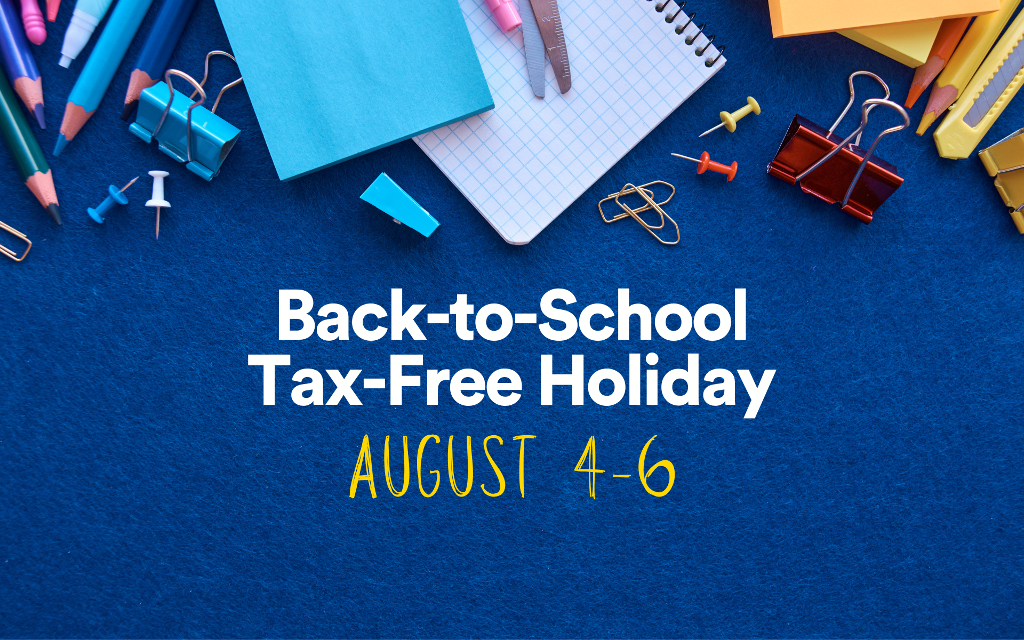 Understanding Tax-Free Weekends
Tax-Free Weekends are special shopping holidays that take place in several states across the United States, including Missouri. The goal is to offer consumers a break from paying sales tax on specific items, encouraging economic growth and boosting retail sales during the back-to-school season. As families gear up for the new academic year, this event comes as a timely and beneficial initiative.
Eligible Items
During Missouri's Tax-Free Weekend, certain items are exempt from state sales tax, saving shoppers a significant amount of money. The eligible items generally fall into three main categories:
School Supplies: Pens, pencils, notebooks, backpacks, calculators, binders, folders, art supplies, and other items essential for educational purposes will be exempt from sales tax. It's the perfect opportunity for students and parents to stock up on back-to-school necessities.
Clothing and Footwear: Apparel and footwear items priced under a specified threshold will also be exempt from sales tax. This includes clothing for all ages, such as shirts, dresses, pants, shoes, and more.
Computers and Software: Computers, laptops, tablets, and related software that are priced within a set limit will be eligible for tax-free purchases. This provision is particularly beneficial for students and those looking to upgrade their devices.
You can check out the Missouri Department of Revenue's Tax Holiday FAQ site for more details.
Benefits for Shoppers
Missouri's Tax-Free Weekend is more than just a shopping extravaganza; it provides tangible benefits to both shoppers and the local economy:
Save Money: The most obvious advantage for consumers is the potential to save money. By avoiding sales tax, shoppers can pocket substantial savings on their purchases, especially when buying big-ticket items like computers and clothing for the whole family.
Support Local Businesses: The tax-free weekend encourages residents to shop at local retailers and support their communities. This influx of shoppers can give a much-needed boost to small businesses, helping them thrive in a competitive market.
Economic Stimulus: The tax-free weekend stimulates economic activity and drives consumer spending. This benefits not only local businesses but also the state's economy as a whole.
Back-to-School Preparations: With the start of the new school year just around the corner, families can efficiently check off their back-to-school shopping lists without breaking the bank.
Tips for Making the Most of Tax-Free Weekend
To make the most of the tax-free weekend in Missouri, consider these practical tips:
Plan Ahead: Create a shopping list of items you need to purchase, and prioritize the essentials to avoid impulsive buying.
Budget Wisely: While the tax savings are enticing, it's crucial to set a budget to prevent overspending.
Arrive Early: Expect stores to be bustling with eager shoppers, so consider arriving early to secure the best deals and avoid long checkout lines.
Check Eligibility: Review the state's guidelines to ensure the items you plan to buy qualify for tax exemption.
Shop Local: Support local businesses and explore unique offerings in your community.
---
Kirkwood's Back-to-school Supply Drive
The Kirkwood – Des Peres Area Chamber of Commerce and Kirkwood School District are partnering on a Back-to-School Supplies Drive. Supplies will go to students in need and organizations assisting them, including Meacham Park Neighborhood Improvement Association.
The average spending on back to school supplies is estimated to be about $551 per student. The chamber's efforts will support Kirkwood students to ensure a successful start to a new year. Support can be school supplies from the Amazon Wish List, developed by KSD Social Workers, or monetary donations to support fees and other needs. All assistance is greatly appreciated.
Click Here to Shop the Amazon Wish List OR, if you would rather buy items, Crayola 12-count colored pencils, Crayola 24-count crayons, and 10-count Crayola markers run out the most!  These items are only $.99 at Target.
Drop Off Sites Open Through August 11th
Orthopedic Associates, 1050 Old Des Peres Road, Ste. 100
Royal Banks of Missouri – Kirkwood, 301 No. Kirkwood Road
Royal Banks of Missouri – Des Peres, 9990 Manchester Road
Chamber Office, 366 So. Kirkwood Road, Lower Level
---
Conclusion
Missouri's Tax-Free Weekend is a fantastic opportunity for shoppers to save money on essential back-to-school items and more. By taking advantage of this event, residents can support local businesses, stimulate the economy, and make their hard-earned dollars go further. And it is a great chance to stock up on donation items for those students who need a little extra help. So, mark your calendars for August 4th to 6th and get ready to shop smart and save big during this exciting tax-free shopping spree!