Farmers Markets in St. Louis
April means the launch of Farmers Market season. Here is our updated guide on St. Louis area Farmers Markets, CSAs, and small businesses that provide customers with fresh produce and other goods. The Known & Grown team created a comprehensive spreadsheet last spring that included information on where to buy safe, local food – from farmers markets, CSAs, and grocers. It was last updated in August of 2020, but it still a good resource for what is available.
St. Louis City Markets

Tower Grove Farmers Market 
Tower Grove Park, 4256 Magnolia Ave, St. Louis, MO 63110, (314) 772-3899
Just west of Center Cross Drive in the heart of the park
tgmarket.org
When
Saturdays (April – October) from 8am-12:30pm
Tuesdays (May – September) from 4pm – sunset
Details
What started as 13 vendors in 2006 has grown to over 130 vendors weekly. Enjoy a selection of locally grown produce, meat, eggs, cheese, baked goods, fresh pasta, coffee, crafts and more. Live music and free yoga classes weekly. Offshoot markets at The Boulevard in Richmond Heights on Sundays, Francis Park on Thursday nights, and a the Thursday night "sip and shop" evening market throughout the summer.
---

North City Farmers Market
Crown Square, North 14th Street and St. Louis Avenue, (314) 241-5031
Located across from Crown Candy Kitchen at the intersection of St. Louis Ave. and N. 14th Street 
facebook.com/NorthCityMarket/
When
Saturdays (June – October) 10am – 1pm
Details
Approximately 20 vendors selling produce from the 13th Street Community Garden and other local growers, baked goods, coffee and hand-made items. Music and demonstrations.
---
SOULARD FARMERS MARKET
730 Carroll Street (at Seventh Street), (314) 622-4180
soulardmarket.com
When
Wednesday-Thursday 8am-5pm, Fridays 7am-5pm, Saturday 7am-5:30pm
Details
The area's oldest farmers market and open year round. Local and broker-supplied produce; butcher, sausage and seafood stands; baked goods; plants and flowers; and a spice and specialty shop.
---
CITY GREENS
4260 Manchester Avenue in The Grove neighborhood, (314) 833-3811
stlcitygreens.org
When
Wednesday-Saturday 10am-6pm
Details
While not an outdoor market,  City Greens offers some of the freshest produce in the area from its small storefront on Manchester in the Grove. All produce is purchased wholesale from local farmers and sold at cost by volunteers. Overhead costs are covered by donations and sliding-scale membership fees (free for families with a household income below $30,000 a year). It is a great resource for a neighborhood with few fresh grocery and produce options nearby.
St. Louis County Markets
midtown farmers market
6655 Delmar Boulevard (rear lot)  in the University City Loop
midwestfarmersmarkets.org
When
Saturday Regular Season Market runs mid April – mid December 8:30am-12:30pm
See website for Winter Market and Holiday hours
Details
The Saturday morning market offers the typical farmers market fare along with music and the artsy, eclectic atmosphere for which University City is known. Products sold include produce direct from Midwest Farms, goat cheese, grass-fed beef, free-range eggs, Missouri rainbow trout, pork products, maple syrup & honey, baked goods, nuts, coffee, tea, specialty artisan foods, soaps & body care and fine arts & crafts. Live music and kids activities.
---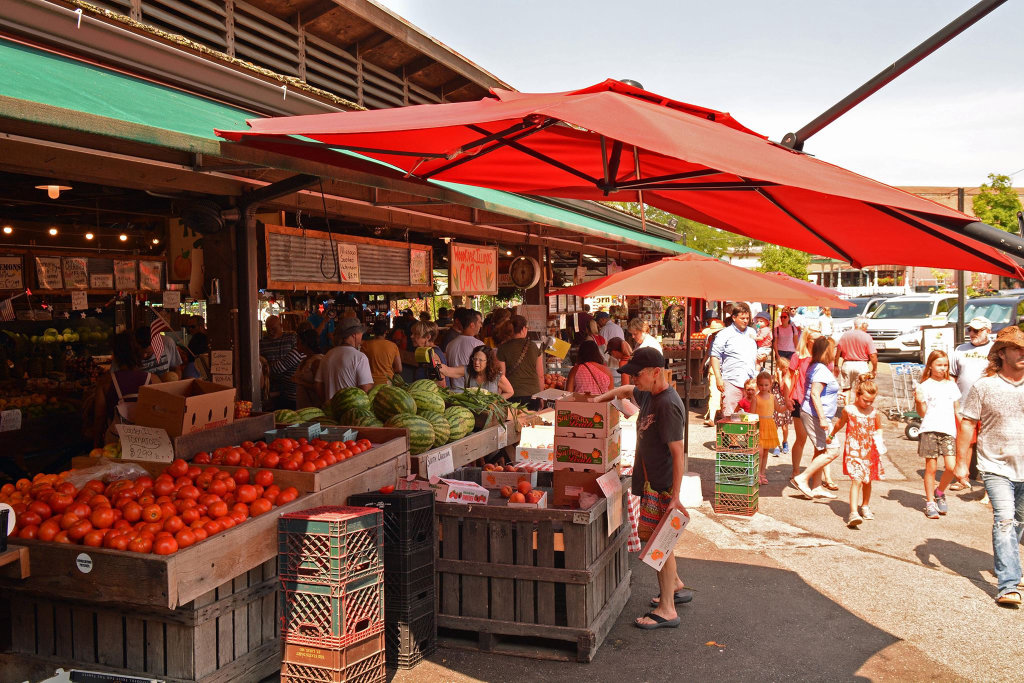 KIRKWOOD FARMERS MARKET
150 East Argonne Drive, Kirkwood, MO 63122, (314) 822-0084
summitproduce.com
When
Weekdays (Early April – late September) 9am-6pm
Saturdays 9am-5pm, Sundays 10am-5pm
See website for fall hours
Details
Family owned and operated since 1978, this market provides local and broker-supplied produce, poultry, meat, cheese, plants, flowers, jams and other retail goods. About a dozen bakers and prepared-food vendors. Live music most Saturdays.
---
MAPLEWOOD SOL FARMERS MARKET
2810 Sutton Boulevard, Maplewood, MO 63143 (Living Room Parking Lot)  (636) 686-0705
SolFoodFarmersMarket
When
Wednesdays 4-7 p.m. April – October
Details
Producer only, local farmer & food forward, vendor owned farmers market. Seasonal, local produce, and live music.
---
FERGUSON FARMERS MARKET
Victorian Plaza, 501 S. Florissant Road, Ferguson, MO 63135, (314) 324-4298
fergusonfarmersmarket.com
When
Saturdays (May – October) 8am – noon
Details
Award winning growers-only market, which means all vendors actually grow or produce the products they're selling.  45+vendors from all over the bi-state area, including farmers, specialty food producers, plant growers, and local artisans sell local produce, farm-fresh eggs, bread and pastries, pasta, organic meats, nuts, honey, flowers and plants, plus a wide variety of artwork and crafts. Prepared-food vendors serve breakfast and lunch. Special events include cooking demonstrations, food contests, farmer sample-fests and live music.
CSAs
At its most basic level, a CSA (Community Supported Agriculture) is a production and marketing model whereby consumers buy shares of a farm's harvest in advance. Basically, you subscribe and pickup your box/bag weekly or every other week. There are a multitude of membership options. Again, this Known & Grown spreadsheet has a great list of local CSAs.
Fair Shares CSA
5021 Northrup Ave, St. Louis, MO 63110, (314) 852-5743
fairshares.org 
Since 2008 Fair Shares has been providing locally-sourced seasonal goods to members from pick-up locations at 44/Kingshighway, University City, and Kirkwood.
LOCAL HARVEST CSA
3108 Morgan Ford Rd. Saint Louis 63116, (314) 865-5260
weeklyharvest
Weekly Harvest is a combined CSA (Community Supported Agriculture) run through Local Harvest Grocery. It is a year-round subscription program, sourcing from local farmers and vendors throughout the seasons. The shares feature local, pasture-raised meat or a vegetarian alternative, lots of produce, free-range eggs every other week, and a monthly rotation of locally roasted coffee or tea, local grains, and local dairy.
---
Pick Your Own Markets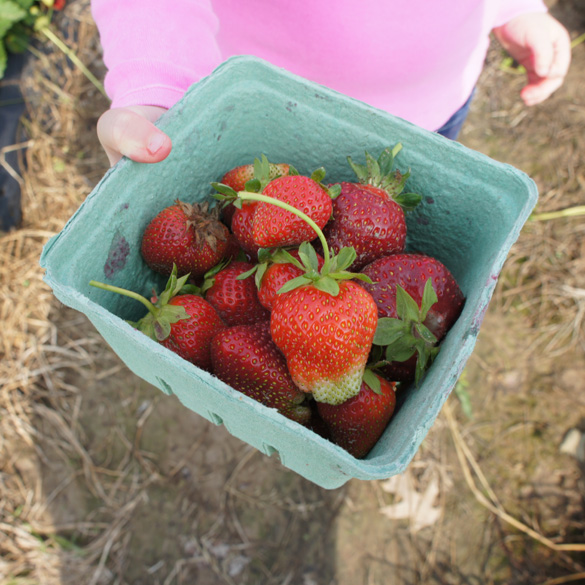 Nothing is as satisfying as sinking your teeth into a fresh strawberry or peach that you picked yourself. Visiting a pick-your-own farm is a great spring/summer activity with kids. Letting them help you make easy strawberry freezer jam will result in something you can enjoy the rest of the year.
Thierbach Orchards
15885 Orchard Lane, Marthasville, MO (636) 433-2299
thierbachorchards.com
Thierbach's is where my kid first picked berries and apples. Late May/early June starts with strawberries and continues with blueberries, cherries, blackberries, peaches and more than 10 varieties of apples. Be sure to visit the orchard's website for ripening schedules and for any changes or additional guidelines due to COVID-19.
Eckert's
See website for multiple locations 800-745-0513
eckerts.com
Eckert's is a family tradition for many area families and can seem almost like a produce theme park, offering entertainment and seasonal events.   The majority of the pick-your-own activity happens at the Belleville farm, which is open year-round, and offers strawberries in May and/or June, followed by blackberries, peaches, apples and pumpkins. The Grafton farm opens in the summer with blackberries, peaches, apples and pumpkins. The Millstadt Fun Farm has apples and pumpkins but only opens in the fall.
Thies Farm and Greenhouse
4215 North Hanley, St. Louis, MO 63121 (314) 429-5506
thiesfarm.com
Thies Farm and Greenhouses started in 1885. The North Hanley location offers pick-your-own strawberries, peaches and blackberries; guests should call ahead to make reservations. Availability is weather dependent. Check the Facebook page or website for up-to-date information.
Summary
This list is not exhaustive, but it is a good start. Again, don't forget to check the website or Facebook page of the market to get the most up-to-date information. Same with the pick-your-own farms. Before making the drive to the farm, always call ahead or check the farm's website for the latest crop reports and picking hours. Have fun!