Remodeling 2022 Cost vs. Value Report
The home improvement market remains strong with predictions that homeowner improvement and repair spending could reach $430 billion by the end of 2022. In order to understand which projects will bring the most value to a home, we are sharing analysis from data compiled in the Remodeling 2022 Cost vs. Value Report.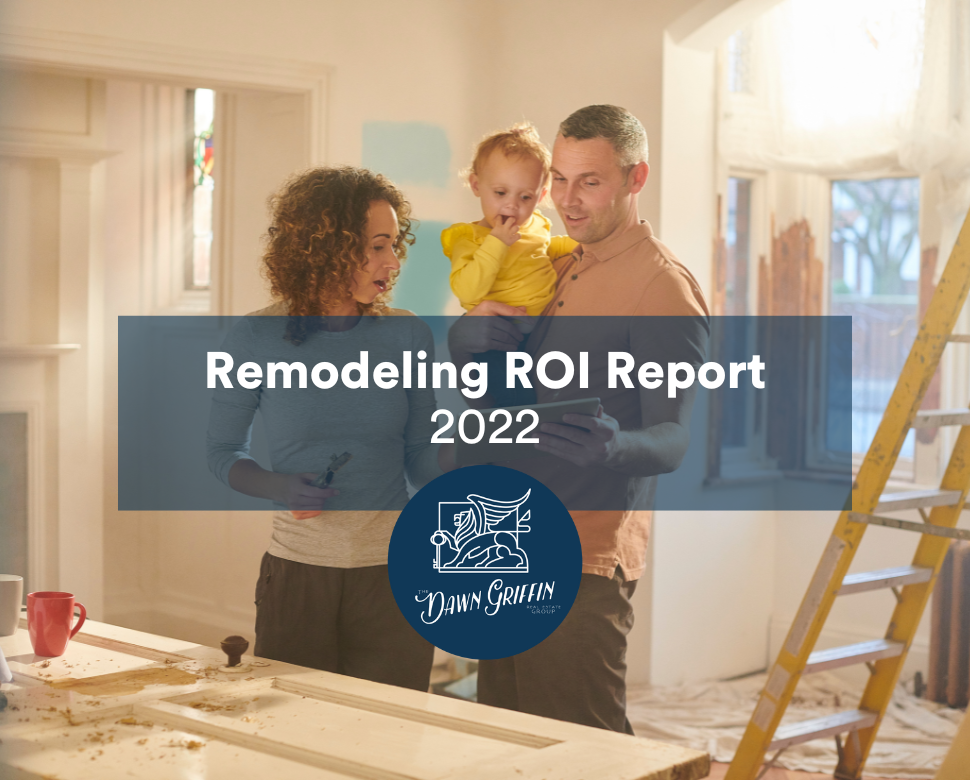 The NAR/ NARI report examines numerous remodeling tasks and provides a cost recovery estimate for the projects. The genuine cost of each remodeling project and cost recovery are influenced by many factors, including project design, quality of materials, location, age and condition of the home, and homeowner preferences.
Interior Remodeling Projects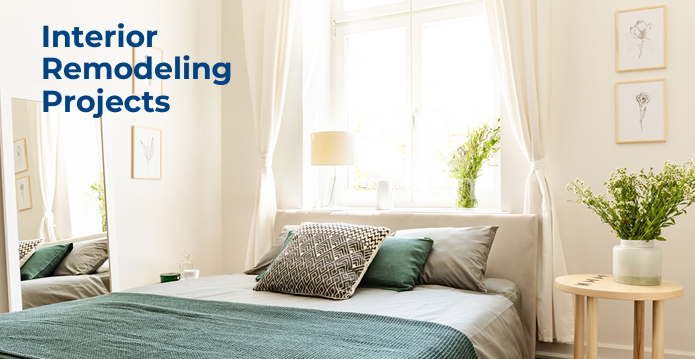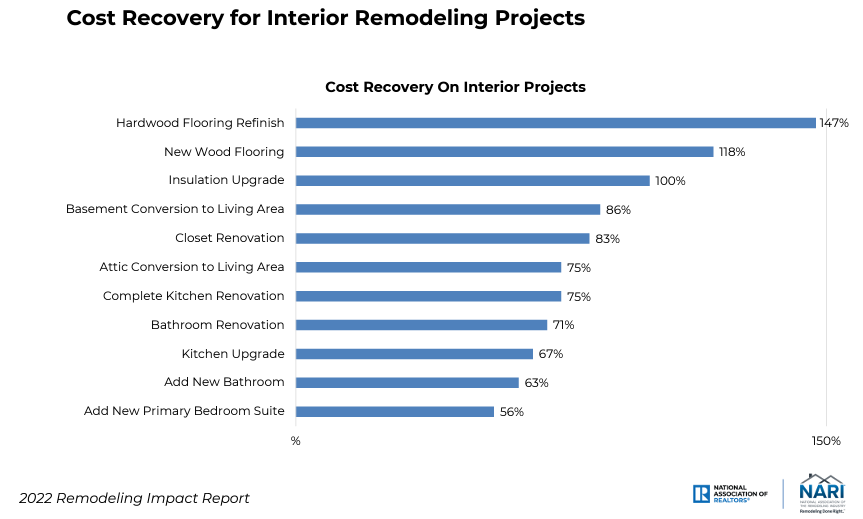 What is interesting about this year's report is the inclusion of a Joy Score, which is a calculation of happiness homeowners reported with their renovations. There were numerous interior projects that received a perfect Joy Score of 10: paint entire interior of home, paint one room of home, add a new home office, hardwood flooring refinish, new wood flooring, closet renovation, insulation upgrade, and attic conversion to living area. While some are DIY projects, an attic conversion is one of the most expensive projects to undertake.
Exterior Remodeling Projects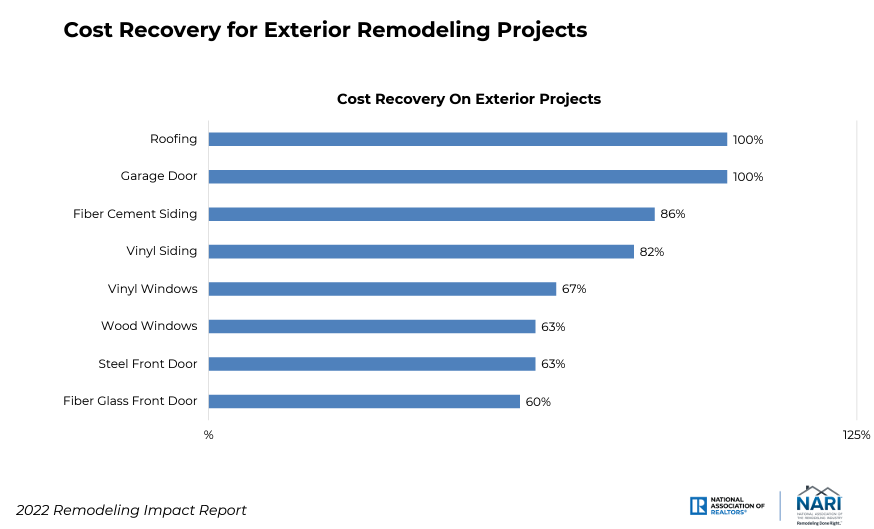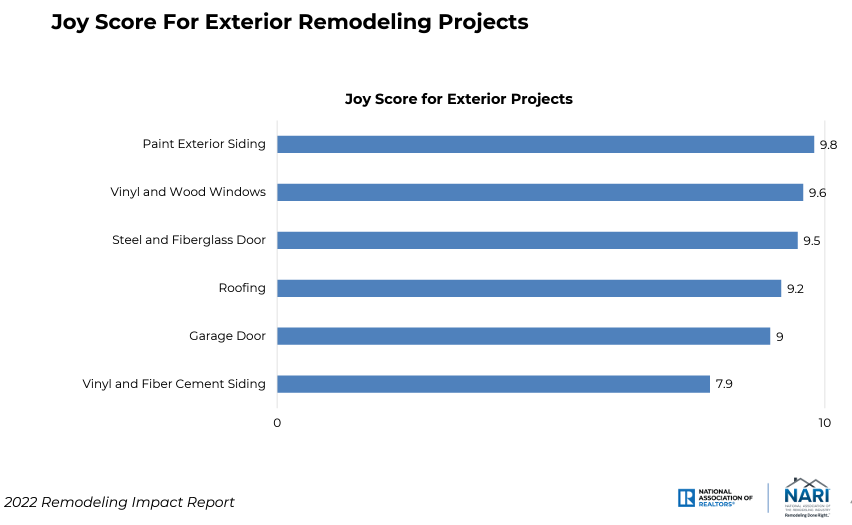 More Costly Projects Do Not Equate With Higher ROI
It is important to note that more expensive projects do not always equate to a higher ROI. Data shows that the four most expensive projects have costs over $100K each with an average ROI of 49.8%; whereas, the four projects at the lower end of the cost spectrum, ranging between $2.2K and $11.1K boast an average ROI of 77.5%. Two of these low-costs upgrades, replacing your vinyl siding with stone veneer and replacing your garage door, have ROIs above 90%!
Project Costs Are Up Since 2019
In 2018 a shortage of tradespeople who perform home improvement projects began. The impact was not immediate, but as the 2020 pandemic came about, demand for for home improvements rose and supply chain issues caused a shortage of materials. These factors caused costs to escalate. Some increases have been exorbitant. In some markets, an upscale bathroom remodel's costs went from $38,952 in 2019 to $82,882 in 2022. This is more than double (112.78%). Others have been more moderate, like a garage door replacement which increased by only $430 from 2019 to 2022 resulting in a more modest 11.9% increase. On average, across all projects, costs have risen 31.2%.
What Does It Mean?
Continuing labor and supply shortages may mean we should not expect home improvement prices to decrease in the near term. While not the best news for budgets, it can be helpful in planning.
For those preparing to list their home for sale, considering upgrades that are popular selling features in the local market along with a project's ROI is imperative. This is where Dawn's experience can truly help you assess what makes the most sense for your home, neighborhood, budget, and goals.
For those looking to stay a while, the ROI may not be as important as the end-result. Joy is important!
Download the full report and contact us with any questions.