Garage organization can seem like an overwhelming task. We've broken the process down into three steps and provided some resources that can make it easier if you try to tackle this project over a weekend. Don't have a garage – the same process can be used for your basement. Let's Do This!
Prep Work
Plan your project for a nice day with no rain in the forecast. Not too hot, too cold, or too windy.
Do it close to trash pickup day.
Stock up on supplies like heavy duty trash bags, sturdy storage bins. If you need shelving, now is the time to invest.
Have lunch and drinks prepared, and music queued.
Enlist support – this should be a whole family activity.
Step One: Purge
Remove everything from the garage and set up four  zones – trash, donate, garage, move
Trash: If you haven't used it in a year, you probably don't need it. Get rid of the throw out pile as soon as possible. Be mindful of hazardous wastes and check your municipalities schedule for big trash day so you can take advantage of it.
Donate/Sell: You can donate to local charities (see resources below) or post on a "Buy Nothing" Neighborhood Group on Facebook. If you are really ambitious you can sell items on Facebook Marketplace, Craigslist, ebay, or yard sale. Just remember, selling can take time and coordination and you may end up with a pile that accumulates.
Return to Garage: As you put items in your keep pile, organize them by type so when you put things back, you will have less to do.
Move Somewhere Else: The random stuff that ends up in garage that really belongs somewhere else? Now is the time to deal with it.
Step Two: Clean
Working from top down, dust out cobwebs, change light bulbs if necessary, wash any windows, hose out/mop floor. Now is the time to paint the walls or garage if you've been considering it. If you have a refrigerator freezer in the garage, clean the outside, but save the inside for another day.
Step Three: Organize
If you don't have shelving, now is a good time to install and organize. It will free up floor space. You may want to mount ceiling hooks to hold bikes, camping gear, or sports equipment. Consider how often the items are used (seasonally, monthly, daily) as you organize, putting the most frequently used items towards the front of any storage spaces. There are dozens of ideas on the internet for organizing your garage.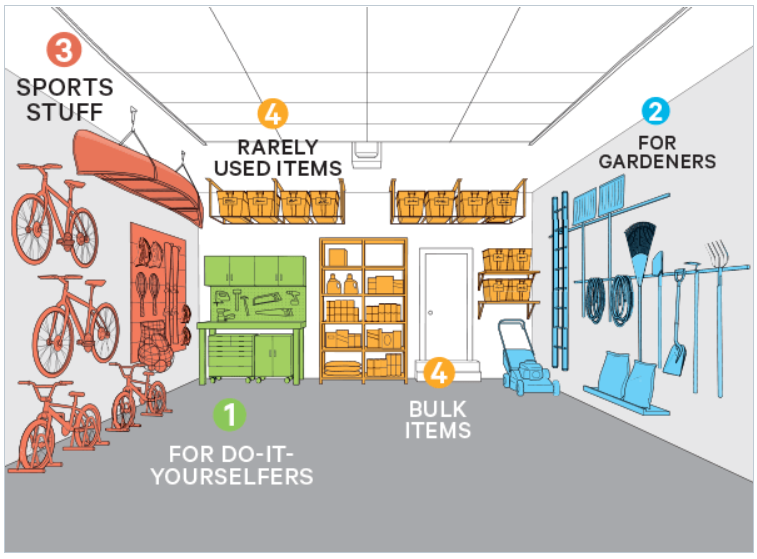 Resources