The Importance of Home Maintenance Record Keeping
Along with homeownership comes maintenance, improvements, receipts, manuals, warranties, and lots of other stuff. Keeping track of all this will help when you need to reference something, but also makes for an impressed buyer when it comes time to sell your home.
Something as simple as a three-ring binder system can work, but having digital records and reminders can also be very handy. Below are some tips on how to manage your home records.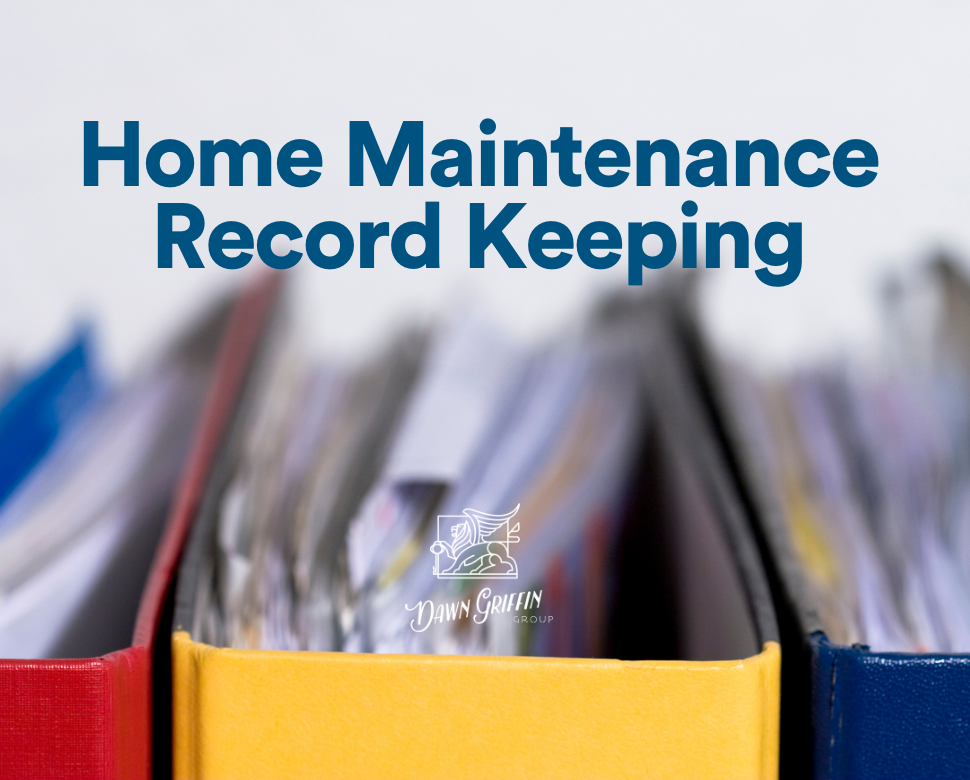 Digital Records
Cloud Storage for Shared Documents and Receipts
Nearly everything is digital now. You can easily share documents, manuals, or receipts in Dropbox or Google Drive so that you can access records from the cloud when traveling or from your phone. If you aren't sharing files with someone else, you may want to just save in a digital folder on your hard drive. Digital files in the cloud and email have a carbon footprint.
Maintenance Reminders
We recommend putting home maintenance tasks in a spreadsheet or a calendar with reminders. There are home maintenance apps, but you are probably already in your calendar regularly. Here is a great article on how to Manage Routine Cleaning and Maintenance Using Google Calendar.
Binder System
While digital file keeping offers convenience and takes up less physical space, there is still often a need for paper storage. A three-ring binder with dividers and plastic sheets to organize everything is the simplest solution. Other advantages of the binder system:
A binder keeps everything in one place instead of stuffed in drawers and file cabinets throughout the house.
The home binder is something that all potential buyers love to see. It indicates that the home has been well-cared for.
If you need to share information with a contractor it is typically easier to look through the binder together than having to scroll through your computer files while contractor waits. You can quickly find manuals or throw the binder in the car if you need to take to the hardware store.
What Goes in the Home Binder
Manuals and Warranties
Whenever you get a new home appliance, instead of throwing the manual in a drawer or file, add it to your binder.  Again, most manuals are available online, but the original paper copy can be hugely convenient when looking for a quick fix to an error message on your dishwasher.
Collect the following manuals and warranties:
Washer/Dryer
Water heater
HVAC system
Kitchen Appliances such as dishwasher, range/hood, refrigerator, microwave, wine fridge, etc.
Maintenance records
Preventative maintenance is more effective and less expensive that waiting for something to go wrong. If you follow a digital home maintenance schedule, make sure you track dates of service and keep the receipts in your binder.
Contractor contact information and renovation material details
We find home buyers are often interested in using the same contractors or vendors as the previous owners. Collect the names and contact information for any contractors who have done work on your home. Keep track of details on anything you or a future buyer might need to reorder—like carpet, or tile, for example. Don't forget about landscapers, lawn care, and pool care companies as well.
Plumbing work – Include information about the irrigation system layout and flushes, hot water heater flushes, pipe repairs, etc. If your stove or heater is gas-powered, include any maintenance or permit information about these systems, too.
Electrical work – Include panel upgrades and re-wiring work. Include permit information. Also include the dates all the smoke detectors were installed and last checked.
HVAC – Dates of maintenance, repairs.
Pool – Include what chemicals you use to treat it, what pump repairs you've completed, and any resurfacing work you've done in the past.
Lawn care and pest control – Include landscaper, lawn care, and treatment companies.
Home improvements and remodeling records
Major home renovations are easy to spot. But there are many home improvements that add value even if less obvious. If you installed new insulation, abated asbestos, refinished floors – those all show that you took good care of your home. Projects like replacing and improving attic insulation have a super high return on investment.
PAINT INFORMATION
Keep a sleeve for each room and throw in the paint swatch. Record the brand, name, number, sheen, and year it was painted. Not only will this make touch-ups easier, it will make matching rugs and accessories easier as well. Your buyers will also appreciate if you leave some touch-up paint in the hall closet when you move.
Home warranty plan
Appliance warranties follow whoever owns the house, but home warranty plans don't necessarily. Roof warranties or basement waterproofing are often transferrable, and these warranties should certainly be kept in your binder.
Blueprints and layouts
Save whatever plans, neighborhood maps, or schematics you have. These likely won't fit in a binder, but are good additions to the home records so keep it all in the same place.
HOA documents
New owners will want HOA information, especially with there are rules about exterior paint colors, fencing, etc. Be sure to have your HOA documents in your binder, along with contact information and any notes about monthly or yearly dues.
Bonus Items
Other items you may wish to include:
If you have invested a lot of time and energy into your garden and landscaping, a list of plants on your property could be helpful.
If your home has historical or architectural significance, articles and information on that would be a great addition to your binder.
If all of this is a little overwhelming, there are fill-in-the blank home maintenance journals available on Amazon. Or reach out to us. We have an excel spreadsheet of seasonal checklists + a yearly maintenance template we will gladly share with you.