Where to Get Rid of Stuff in St. Louis
Whether you are preparing to move or spring cleaning, not knowing where to go with all your unwanted stuff is stressful. We put together a guide on where to donate your stuff in St. Louis. We have where to go with household goods, building supplies, clothing, electronics, furniture, books, and more. It's always a good time to de-clutter.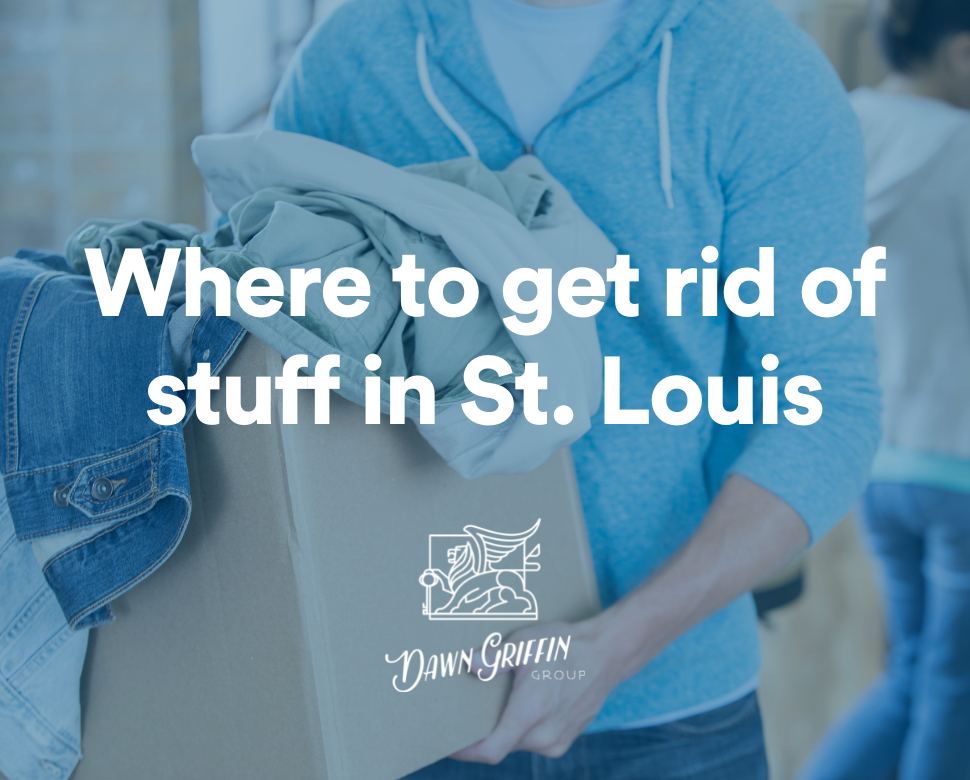 Buy Nothing Groups
I am a big fan of Buy Nothing groups on Facebook or the Buy Nothing app. Everything shared on Buy Nothing is given freely, no money, no barter, no strings. When I have home goods or kid stuff to get rid of – from toys, to clothes, to decor – I post it for porch pick-up and it usually gone the same day. Easy peasy. I needed a few canning jars and three people offered up extras. It's a great place to find or get rid of moving boxes too!
Buy Nothing Website
---
Household Hazardous Waste
Saint Louis Hazardous Waste
St. Louis Household Hazardous Waste (HHWSTL) is a regional partnership to provide options for proper management of Household Hazardous Waste for residents of St. Louis County, St. Louis City, and Jefferson County. Drop offs are by reservation only and you can see the comprehensive list of accepted items online.
HHWSTL website
St. Louis City (314) 622-4800
St. Louis County (314) 615-8989
Video from a recent trip to the St. Louis Household Hazardous Waste drop off point in north county to responsibly dispose of some excess paint in a client's basement.
---
Electronics 
Midwest Recycling Center
Midwest Recycling Center (MRC) can help you safely dispose of your electronics, computers, cell phones, and other equipment. MRC is registered with the EPA, is Level 4 Registered with the Missouri Department of Natural Resources, and is R2/RIOS Certified at their Park Hills facility. They have a Zero Landfill Policy with the exception of wood from Console Televisions and Big Screens. They regularly hold community recycling events which are open to the public to drop off their unwanted electronics and appliances for recycling, listed on their website.
MRC website
Phone: (636) 223-0150
St. Louis BWorks
Youth education nonprofit St. Louis BWorks accepts desktop and laptop computers, digital cameras and other electronics during select hours at its location at 2414 Menard St. in St. Louis. They accept bikes as well. Call first for donation hours.
BWorks website
Phone: (314) 664-0828
---
Building Supplies, Appliances
Habitat for Humanity
Habitat for Humanity will accept tile, doors, cabinets, windows, appliances, and more. Their ReStore locations are always looking for gently used or new building materials and will even take unopened cans of paint. The website has a full list of donations they will accept, information on scheduling pick-ups, and even alternative organizations that may accept your donations if Habitat for Humanity can't.
ReStore Donation Guidelines
Phone: (314) 678-4576
Refab
Refab works in collaboration with local nonprofit organizations, community groups and government to promote the collective and creative re-use of our built environment. This mission is sustained by deconstructing buildings otherwise slated for demolition, retraining community members for careers in green industry, and refabricating building materials. See website for complete list of accepted items or to schedule a pickup.
Refab Website
(314) 357-1392
---
Household Goods, Furniture, Clothing, & Linens
Much of the items donated to larger organizations end up in landfills (especially linens). Consider giving unwanted sheets, blankets, and dingy towels to animal rescue centers. They use them to pad the beds for our critter friends during recovery or while they wait for forever homes.
Home Sweet Home
Home Sweet Home connects nonprofit partners in the region with donated new or gently-used furniture and household items that help clients set up their homes. Drop offs are accepted at their Brentwood warehouse or you can schedule a pickup.
Home Sweet Home Website
Phone: (314) 448-9838
Miriam Switching Post
Miriam Switching Post is an upscale resale boutique selling gently used furniture, home decor and collectibles. The Switching Post raises needed funds to support Miriam's mission of empowering unique learners. All proceeds from the Switching Post support Miriam's Variable Tuition Program, which provides financial assistance to our students and families. They accept clean, gently used or new furniture and household items and offer free pickup for large items. Walk in donations are accepted anytime during store hours.
Miriam Website
Phone: (314) 646-7737
FamilyForward
This children and family support nonprofit accepts gently used clothes, books, toys and small household items. Schedule a pickup or locate a drop box online.
FamilyForward website
Phone: (314) 416-1300
Oasis International
Oasis provides support, resources, and community for refugees resettling in St. Louis. They are often in need of furniture, home goods, and clothing.
Oasis Website  or Furniture Donation Guidelines & Request Form
Phone: (314) 353-3800
---
Books
Consider taking a stack of catalogs, magazines, maps, and scrapbook paper to a children's museum, art center, after-school program, or school. Glossy pages filled with colorful images are great for collage art projects.
Greater St. Louis Book Fair
Only accepts new or gently used and clean items or rare and best loved treasures. List of authorized drop-off locations on website.
Book Fair Website
Phone: (314) 993-1995
ready readers
Ready Readers welcomes donations of new or gently used books for children from infant to age 12. They need board books, picture books and chapter books. They do not accept activity books, workbooks, coloring books or books with religious/holiday themes.
Reader Readers Website
Phone: (248) 298-6060
Missouri Prison Books Program
Missouri Prison Books is a St. Louis-based 501c3 charitable organization that sends free books on request to incarcerated people in Missouri.
MPB Website
---
Art Supplies
Perennial Community Workshop
Perennial is a community workshop and store in St. Louis, MO that offers educational programming in creative reuse to diverse populations and sells handmade DIY kits and tools for reuse projects. They turn trash in to amazing items and teach the community to do the same. You can see the list of items in need and hours on their website
Perennial Website
Phone: (314) 832-2288
---
Larger Collection Centers
Society of St. Vincent de Paul
This service nonprofit accepts electronics including computers, monitors, DVD and VCR players, phones, radios, speakers and flat-screen televisions that are less than five-years-old, as well as home goods, furniture and clothing. See complete list of accepted items, find a donation location, or schedule a pickup online.
Society of St. Vincent de Paul website 
Phone: (314) 881-6006
The Salvation Army
The Family Stores of The Salvation Army, which fund its Adult Rehabilitation Centers, accept household goods, as well as furniture and clothing. To find a drop-off location or schedule a pickup online.
Salvation Army Donation website
Phone: (800) 728-7825
Goodwill
Accepts donations of most household items, including clothing, linens, shoes, accessories, home goods and kitchen wares, from 10 a.m. to 6 p.m. seven days a week. Furniture is not being accepted at this time.
Goodwill Donation Locations
Phone: (314) 241-3464