Grantwood Village – Neighborhood Focus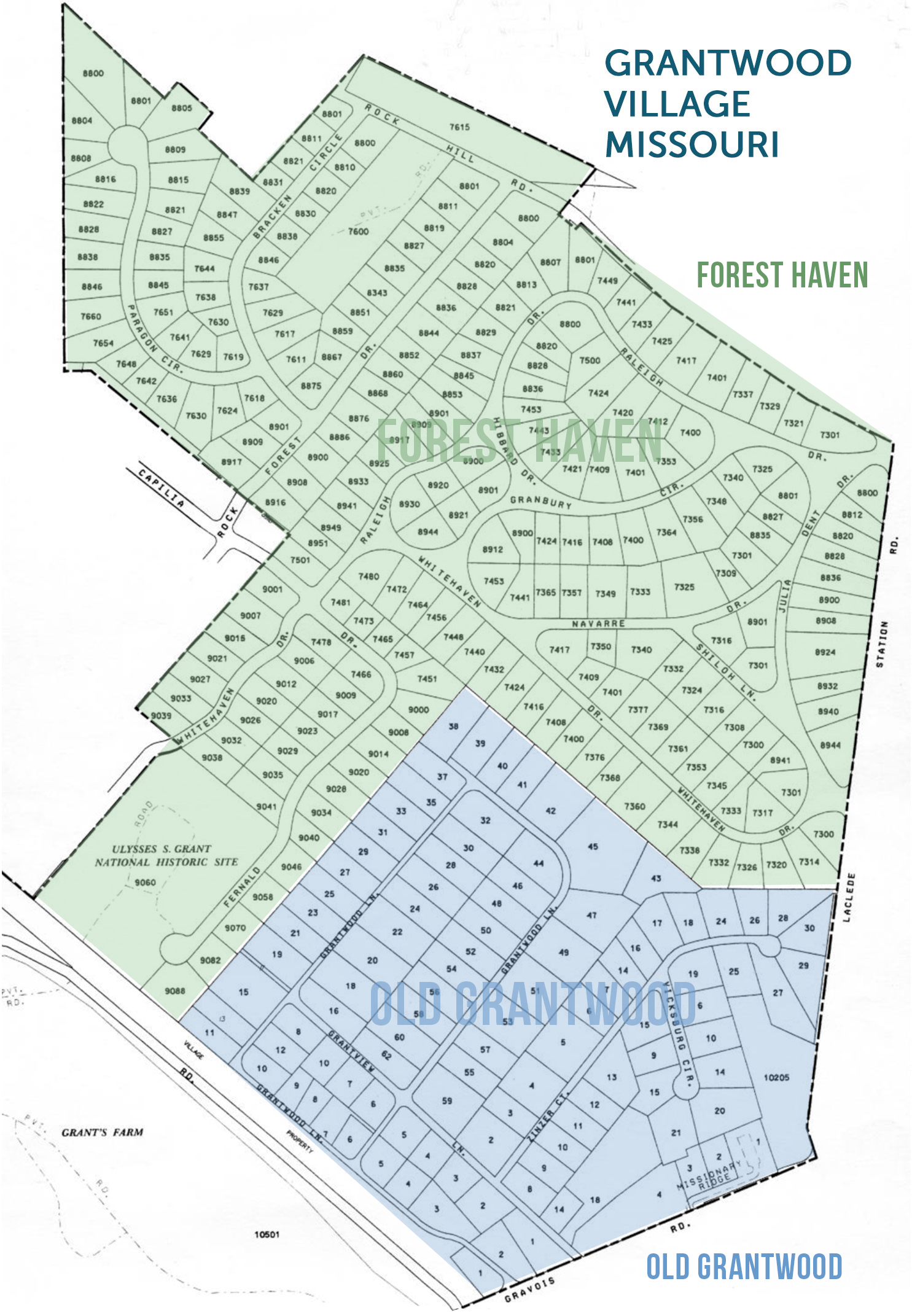 We helped three clients sell homes in Grantwood Village in 2020 so we are taking this opportunity to highlight the neighborhood. Niche ranked Grantwood Village as the #2 Best Suburb To Buy A House in Missouri. Nestled in between Webster Groves, Crestwood, Shrewsbury and Affton, its name says it all. Grantwood, because it sits on the land formerly owned by Ulysses S. Grant, and Village, because, well, it is neither town nor city. It has no designated retail center, though it is served by a couple of local watering holes. Grantwood Village is bordered by retail districts in Crestwood, Webster, and Affton. In fact, Affton provides police and fire protection for the village. Grantwood Village is part of the award-winning Lindbergh School District and is made up of 345 single-family homes. The village is divided into two parts, which oddly are not connected to each other by road.  The southwest area, Old Grantwood, can only be entered off of Gravois Road. The northern area, Forest Haven, is entered off of South Laclede Station Road and South Rock Hill Road. Grantwood Village is known for its historic homes and mid-century ranches, generous lot sizes, and mature trees.
Census Information for Grantwood Village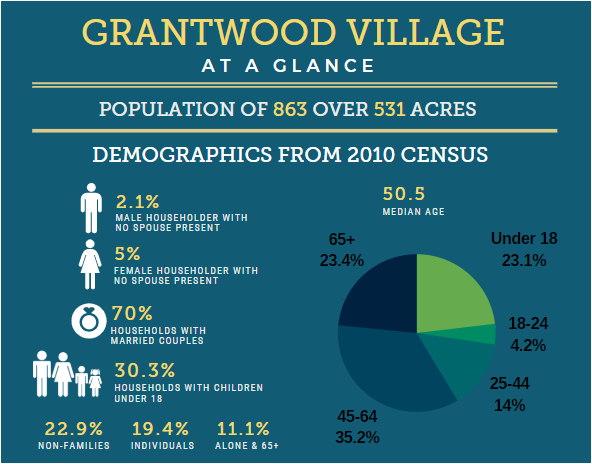 Attractions in Grantwood Village
At 281 acres, Grant's Farm takes up more than half of the town's landmass. Grant's Farm has been a popular St. Louis destination since 1954. It is the ancestral home of the Busch family and is named for Ulysses S. Grant who originally worked a portion of the land. Grant's Farm has rides, shows, and close up animal encounters. Whether you want to ride a camel or a carousel you will not be disappointed.  Along with being home to a variety of exotic animal species from around the world, you may also find world-famous Clydesdales in the meadows along Grant Road. This huge wildlife preserve bordering Grantwood Village offers a rural feel even though you can drive 15 minutes in any direction to a Target or Starbucks.
Ulysses S. Grant Historic Site is a 9.65-acre United States National Historic Site located within the municipality of Grantwood Village. The site, also known as White Haven, commemorates the life, military career, and Presidency of Ulysses S. Grant. You can visit the main house, watch a short documentary on Grant, and spend time in the interpretive museum, located in the historic stable. The site has an extensive calendar of events with guest lecturers and authors covering relevant topics such as the Civil War, African Americans and slavery, St. Louis in the 19th century, Presidents, and First Ladies. It is an astounding resource for the region and the Village residents take great pride in its rich history.
Whether cycling, walking, jogging, rollerblading, or pushing a stroller, this is where you will find many Grantwood Village residents getting their exercise. The trail runs along Grant Road along the western edge of Old Grantwood. Grants Trail is 8.25 miles and part of the Gravois Greenway. It connects the Meramec River Greenway to the River des Peres Greenway. It begins at Orlando Gardens near Union Ave and I-55 and runs northwest to Holmes Ave and I-44 in Kirkwood.

Built in 2015, this branch of the St. Louis County Library system has quickly become one its busiest. Its modern feel, with floor-to-ceiling windows overlooking Grant's Farm, offers something for everyone. The Children's section has an activity classroom, computer section, play area, and quiet reading areas. The library offers an amazing breadth of programming for children, teens, adults, and seniors in subjects as varied as tech talks, yoga, needlework, and chess. There truly is something for everyone at the library.
Grantwood Village Amenities
Grantwood Village has no commercial center, rather it is bordered by the commercial districts of Webster Groves, Affton, and Crestwood. Within three miles, there are three Schnucks, two Aldi's and one Dierbergs along with many other shopping and dining options. The closest shopping is Grasso Plaza, which has a Panera, Starbucks, Club Fitness, Walgreens, and Post Office. Across the street are a Schnucks, Ace Hardware, Pet Supply Store, and two popular diners. In 10-15 minutes you can easily be in the main shopping districts of Webster Groves, Kirkwood, or Shrewsbury.
In the spring of 2020, a revitalized Affton Plaza opened 9 Mile Garden, a food truck hub offering delights from a variety of vendors.
Kid-Friendly Activities Near Grantwood Village
Whitecliff Park is the nearest public park to Grantwood Village. This eighty-five-acre park has 40 acres of preserved wooded area that provides an oasis and includes walking trails that lead around a quarry and to various other parts of the park. Whitecliff is home to Crestwood Community Center, a 22,000 square foot center that includes expansive fitness rooms and recreation programming. Outdoors amenities of the park include tennis courts, a softball field, pavilions, and a playground. The popular Aquatic Center features a multi-purpose lap pool with two diving boards, a lazy river, zero-depth beach area, lily pad challenge area, climbing wall, a big slide and a family play pool with three slides and play features. Although in the municipality of Crestwood, it offers discount passes to Village residents.
In addition to Grant's Trail and Grant's Farm, other nearby kid's activities include Laumeier Sculpture Park, Rockin' Jump Trampoline Park, and Monkey Joe's.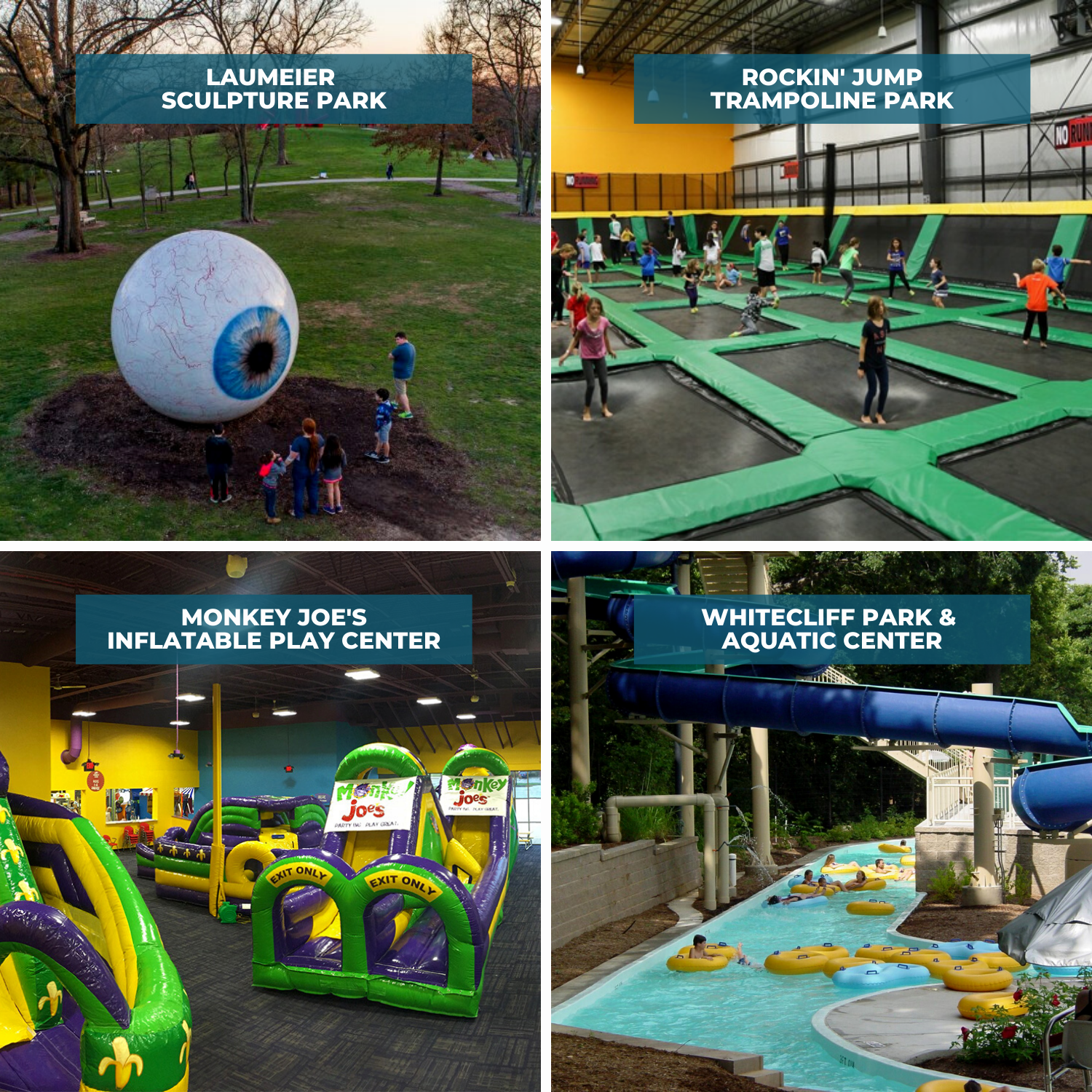 Grantwood Village Development
Old Grantwood: This section of the Village borders Grant's Farm on the west and Gravois Road on the south. The first home in Old Grantwood was built in 1912. In the late 1920s, home development plans started to gain momentum with restrictions such as "no building of other than stone, brick, tile or stucco over tile construction and costing not less than $7,500 and used as a residence by one family only, may be erected…." As a result, the homes are stately and typically on larger lots. In the early 1990s, the last five homes were developed in Old Grantwood on Zinzer Court culminating in 104 total homes in this section.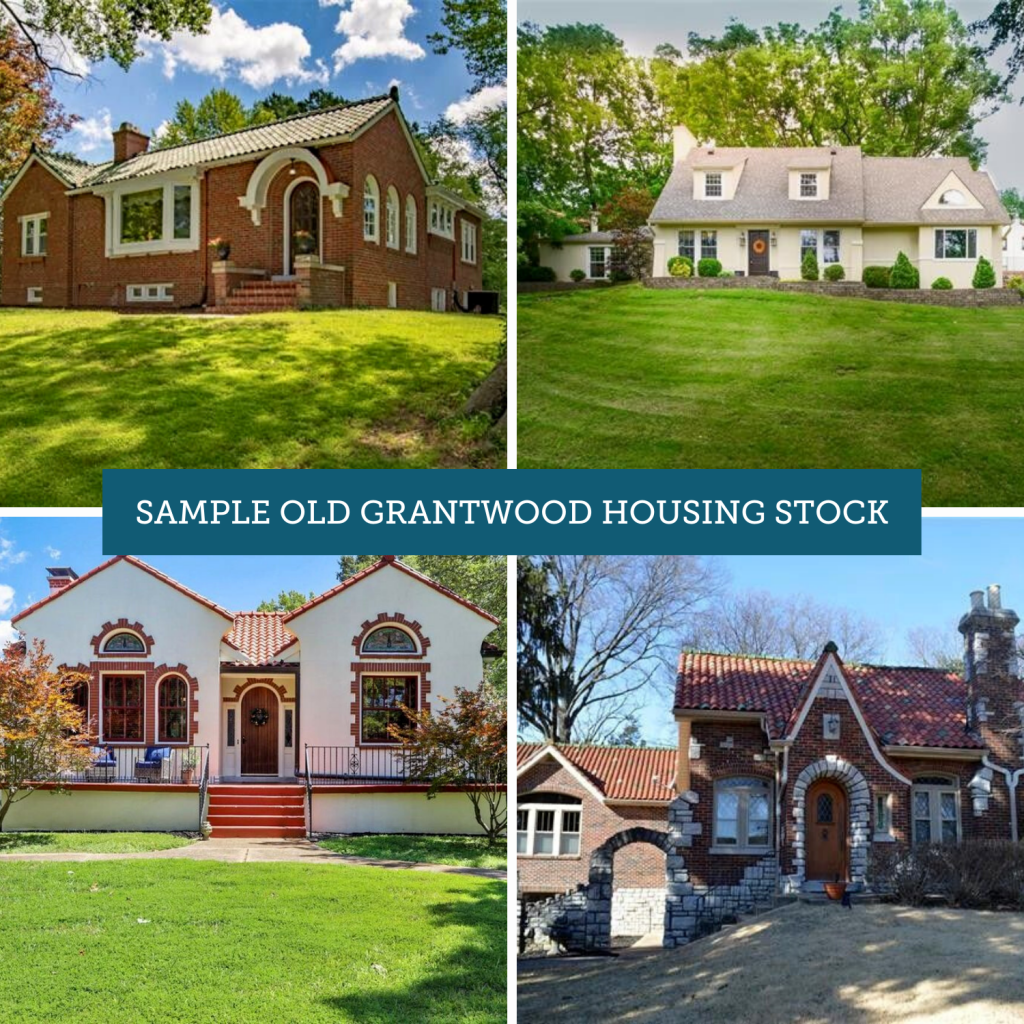 Forest Haven: This section of the Village is bordered by Rock Hill Road and Laclede Station and then the remaining line zig-zags, butting up against the Crestwood municipality (see map above).  In 1944, a seventy-eight-acre land track was sold for $72,500 and would become the first section of Forest Haven. It was modeled on the developer's pride and joy, Pasadena Park in North St. Louis County. Both neighborhoods were planned, both have winding streets with very few straight avenues, and both have small parks formed by the gaps of intersecting streets. Two of these parks have Little Libraries. The largest parkway, at Granbury and Hibbard, hosts many social events, including the annual village-wide Fall Festival, and Forest Haven's annual Spring Fling. Forest Haven's 241 homes are predominantly mid-century single-story ranch homes, but there are a few two stories, split levels, and a handful of homes that were built in the 1990s.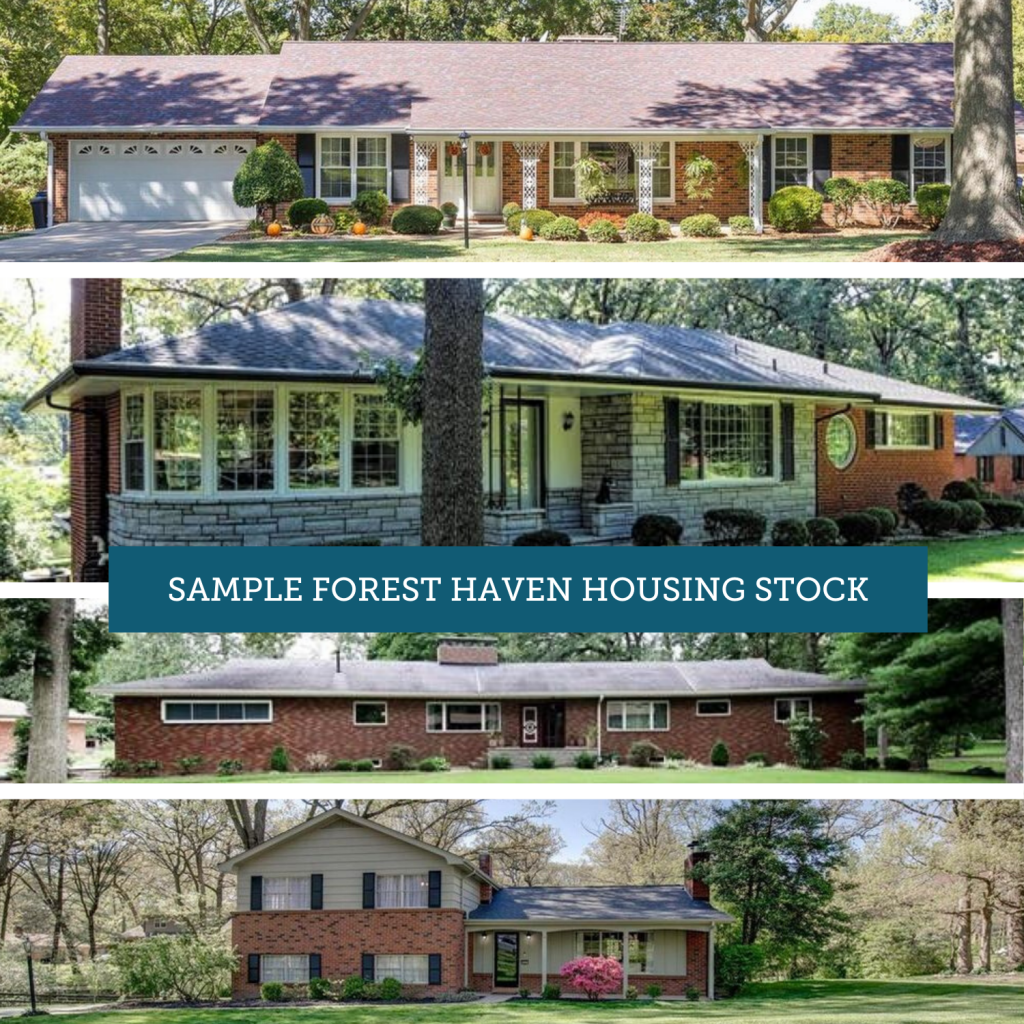 Housing Statistics for Grantwood Village
Below is a snapshot of the housing 2018-2019 housing statistics for the Village. We can easily provide a detailed comparison report for Forest Haven, Old Grantwood, or the entire Village. Contact us for that for information.