St. Louis and Telecommuting
New reports out on telecommuting trends show an increase in companies offering the perk, employees taking advantage of it, productivity, and employee satisfaction levels.
60% of companies are offering telecommuting options – working from home on an occasional or regular basis – compared with just 20% a decade ago.
43% of employees worked remote at least some of the time in 2016 reporting, compared with 39% in 2012.
The most engaged workers are those who spent 60 – 80% of their week, or 3-4 days, working from home, and a minority of their time in the office.
It would seem that with improved technological advances and positive impact on productivity, the upward trend is poised to continue.
St. Louis for Telecommuters
St. Louis housing prices remain affordable – much better than national average. Last year U.S. News and World Report listed St. Louis among the 20 best affordable places to live in the U.S. and Business Insider included St. Louis as one of the 10 best big cities in the U.S. to buy a home instead of rent. With an average median sale price of $162,438 your dollars go much farther in St. Louis. In the past we've shown examples of homes in that price range and compared what rent would be on similar homes. The case is pretty clear that if your goal is home ownership, St. Louis is great option.
Over the years, we've helped many buyers relocating to St. Louis and they are consistently blown away by the quality and affordability of our housing stock.
MORE HOME FOR YOUR MONEY
Your dollars go farther in St. Louis. You'll get more home for your money and if you are going to be working from home – having extra square footage for an office is desirable. And for millennials, statistics indicate that square footage is more important. Contrary to the cliche, millennials are generally dreaming of bigger — not smaller — places to live. While this generation is more eco-focused, only 13% said they wanted a space smaller than their current living arrangement. This could be credited to the desire to leave behind student housing, cramped/shared studio spaces, and too-small starter homes.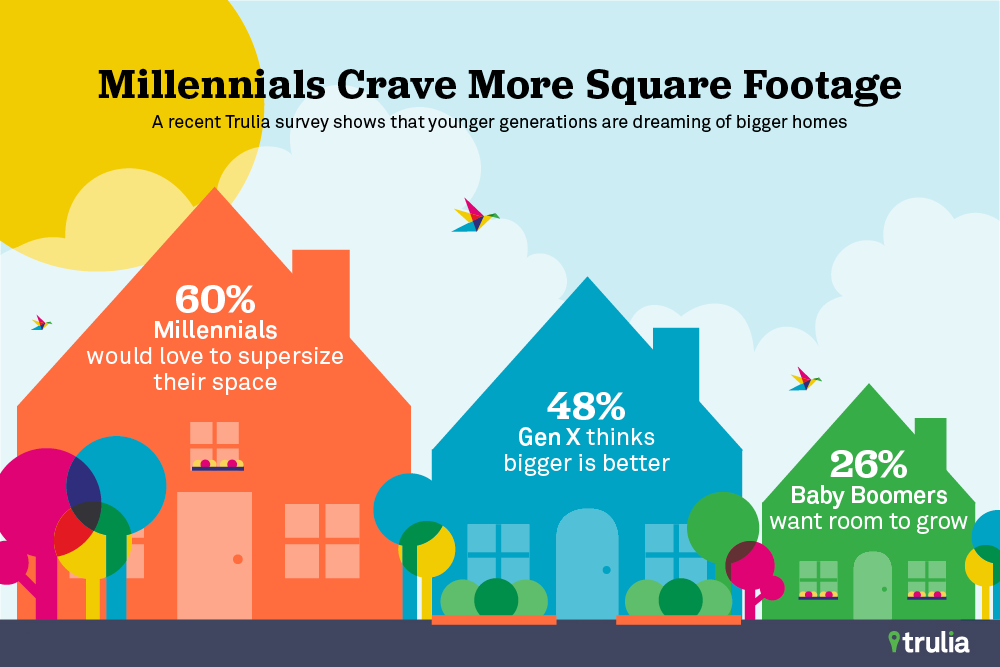 Home ownership long has been central to Americans' ability to amass wealth and the net worth of homeowners over time has significantly outpaced that of renters, who tend as a group to accumulate little if any wealth. Buying in a stable market like the Midwest, where interest rate hikes are absorbed better than coastal markets, could be a smart move for your financial future.
Top Telecommuting Employers
Some professions are better suited to telecommuting with the most popular being writer, engineer, marketing manager, healthcare consultant, case manager, development director and recruiter. FlexJobs, an online service devoted to listing telecommuting and flexible schedule work opportunities, is a prime resource for those in search of such scenarios. It offers legitimate and professional listings for jobs in 50 career categories with positions ranging from entry-level to C-suite and from private sector companies like Amazon, Dell, and United Health Group, to government agencies
Top 100 Companies for Remote Jobs
SUMMARY
If you are a current telecommuter living in less than stellar digs in another city, you might want to consider home ownership in St. Louis. Whether you prefer St. Louis City, the inner ring suburbs like University City, Maplewood, Clayton, Webster Groves, or St. Louis County – our team can help. The affordability and quality of our housing stock, combined with world-class parks and institutions, make us a great option for telecommuters.
---
Sources