12 Great Hikes to Escape the City Heat
You don't have to go far to find a place to escape the summer heat of the city – in fact, you may not have to leave the city at all!  I've polled some friends and reflected on some of my own favorite hikes and hunted around on the internet to find 12 great hikes to share!  Most of these are very close to St Louis City while a handful are a couple of hours out – each makes for a great trip that will let you forget the hustle and bustle of city life!
Eastern Missouri and Southern Illinois are marked by 3 great geological characteristics: Cliffs, Caves, and Bodies of Water.  All of these lead to and/or are a result of water ultimately trickling towards the central vein of the region – the Mississippi River.  You'll see one of more of these characteristics at each of these parks/recreation areas!
Forest Park (see park map) – Forest park has a great network of trails  – perhaps most notable is the nearly 6 mile loop that traverses the park's perimeter. Part gravel and part paved, this trail is designed to appeal to walkers, joggers, strollers (both the people kind and the kind that carry babies), roller bladers, and bikers. In addition to this perimeter trail, you can choose from 1 of 5 self guided audio tours through some of the parks most scenic spots including the Steinberg Savannah Trail. Or, just meander through the Kennedy Forest on the park's Southwest corner.
Shaw Nature Preserve (see park map) – Can't go wrong here, this is a classic "Choose your own adventure" spot to spend anywhere from 30 minutes to a whole day!
Hike Through Six Unique Natural Habitats:
Plan to spend a day or an afternoon just wandering the grounds. The Wetland Complex can be exceptionally tranquil, and visitors often see ducks, kingfishers and herons working their way through the lily pads. Or, take a hike through the reserve's upland forests, keeping an eye out for deer and wild turkey. Hidden within the forests are quite a few naturally occurring glades, wide open areas that bloom with native wildflowers through spring and summer.
Overall the reserve has more than 14 miles of trails, cutting through a wide variety of native habitats, including tallgrass prairies, pine meadows and bottomland forests. A number of trails also lead to a peaceful section of the Meramec River, where hikers can cool their feet in summer months.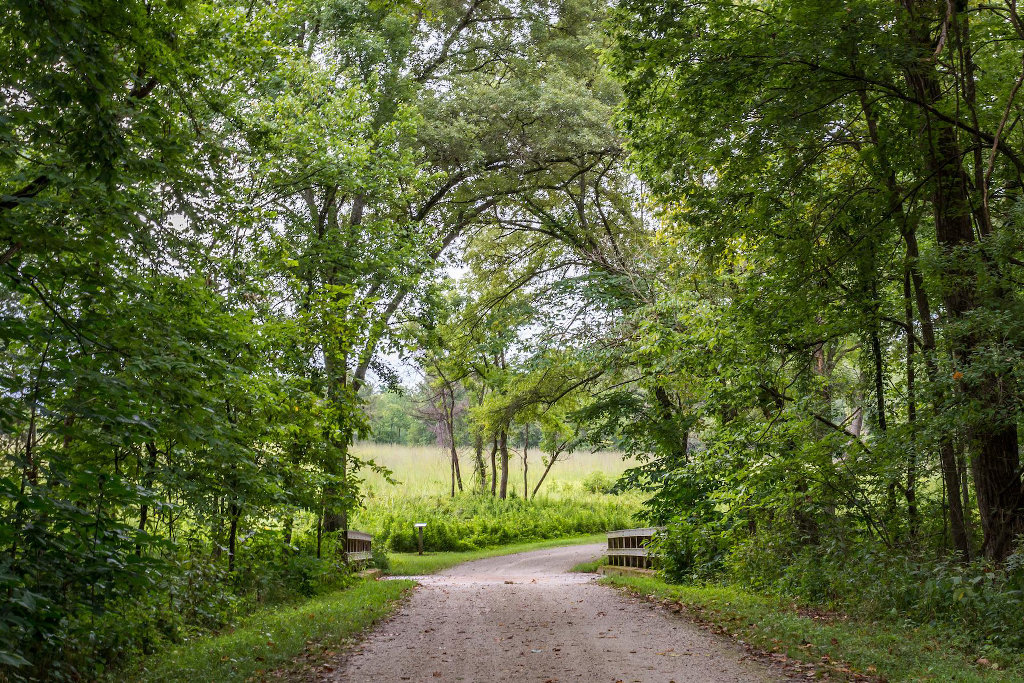 Mastodon State Historic Site (see park map)- There are three short trails to choose from at this cute little park which used to be the site of a large limestone quarry where bones of Mastadons have been discovered and excavated. The trails are short enough that you can easily hike more than one! You'll work up the biggest sweat on the Limestone Hill Trail but there are plenty of spots to stop and catch your breath and, if the foliage isnt too thick, you might even be able to marvel at one of the vistas from atop the giant boulders that this shady trail circles.  After your hike, get lost in nearby, sleepy little Kimmswick which features a historic shopping center and ongoing sales, events, and community activities.
Emmenegger Nature Park (see park map) – located in Kirkwood, MO near the intersection of I-44 and I-270 and the Meremac river, this park is a short jaunt away from the city and features a short trail both paved (.5 mile) and unpaved (1 mile) and strolls along bluffs lining the Meramec river! Folks who have visited the park give it rave reviews for evening hikes to cap off long summer days.
Cuivere River State Park (see park map). Cuivre River is one of Cooper's favorite places. The trail around the lake is very manageable, not too many steps only a few inclines, some nice rocks lake side for sitting and dangling your feet. At a good clip you can make the loop in about an hour and half. But if there's no hurry you can linger for hours. Pack a good picnic and cop a squat!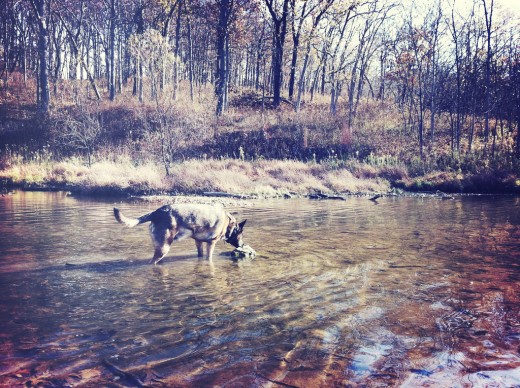 Castlewood State Park (see park map)- is known to many St Louisans as a great place to hike, bike, or even relax in the waters of the Meremac river. But did you know that this was once the site of great prohibition era parties?! While the parties may have been tamed over the last 80 years, good times are still enjoyed by folks of all ages. In particular, you should check out the River Scene Trail, which "follows the edge of the bluffs for about a mile past overlooks that provide stunning panoramic views of the Meramec River valley 200 feet below." There are 8 trails to choose from at this great park that's just outside of I-270 – so you can stay for a few minutes or make a whole day of your visit!
Green's Cave Bushwhack (Hamilton Hollow Route – see website)- this hike through Meramec State Park follows Hamilton Creek and offers no formal trail to follow – so make sure to bring your compass and a good topographical map! Along the way you can see "an old iron smelter, Hamilton Cave, two springs, and an abandoned homestead," writes Steve Henry in the book 60 Hikes within 60 miles of St Louis. He recommends taking this hike in cooler months, as the growth along the creek can become overwhelming and difficult to navigate. The cave that Jesse James once used as a hideout is now fenced off to protect the bat population, but the vistas and variety of sights to behold are said to be fantastic for those willing to blaze their own trail!
For a more thorough, online description of this bushwack, read this youngster's blog from his site called, Ben's Hikes.  Alternatively, if you've got about 12 minutes and like classic, mostly southern, rock – check out this video of Green's cave and some of it's neighbors to get a feel for the area – and some of its visitors.
Cliff Cave County Park (see park map)- Located just South of I-255 along the Mississippi, Cliff Cave County Park, has three trails to enjoy – one paved and two with packed dirt. The trails are open to horses, bikes, and hikes – so keep your eyes out for surprises! This is a great place to see historic bluffs as well as the mighty Mississippi! The cave – formerly known as "Indian Cave" is also closed to the general public in the interest of endangered bats, but there may be a chance to get inside St Louis County's 2nd largest cave if you call the county parks department for a reservation: 314-615-4FUN.
Pere Marquette State Park (website)- GreatRiverRoad.com writes, "Hikers will find a variety of hiking opportunities at the park with 10 trails that total approximately 12 miles. The trails' ratings range from easy to difficult and travel through a variety of habitats. There are 9 scenic overlooks along the trails that provide the hiker with a panorama of the countryside. The trails are color-coded and are clearly marked with paint on the trees and signposts."  The Goat Cliff Trail comes highly recommended because of it's vistas of 3 bodies of water and its sampling of the park's natural treasures. Want to make a night of it? This park has great camping facilities too!
Pickle Springs (see park map)- AllTrails.com tells us that, "Trail through time was designated a National Natural Landmark in 1974. It features unique rock outcroppings wet weather creek crossings, seasonal waterfalls, bluff overlooks and shallow caves."  The park includes a double arch & rocks to climb on, too!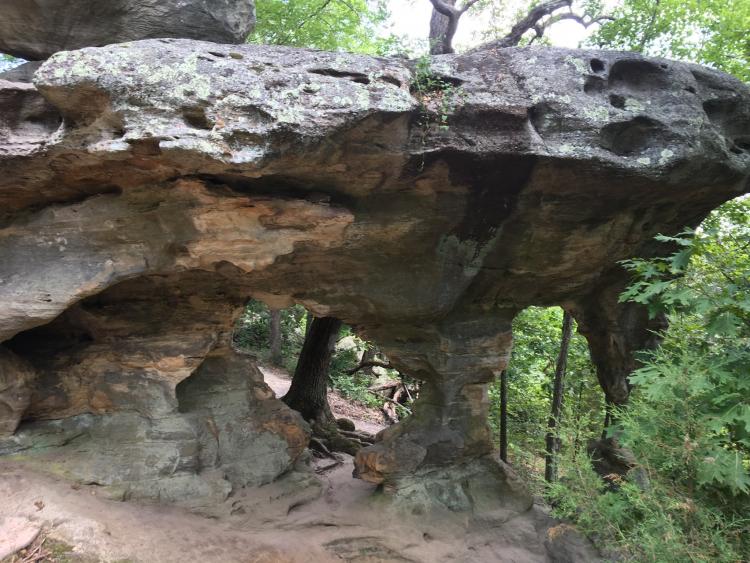 Silver Mine Recreation Area (see website)- "The St. Francis River thunders through a rugged canyon cut through granite bluffs overlooking its course through the St. Francois Mountains," writes Trails.com.  Be prepared to walk through ditch weed and the like so bring long pants – but you can be rewarded by cool water to dip your feet in along your way.  If that's not cool enough, seek out "the air conditioner," aka the Einstein Mines, who give the park its name.
Ozark Trail – Finally, you may have heard of the Appalachian Trail and Missouri is on its way to having a continuous trail of its own. Hop over to their website and explore all the great options throughout the show-me state's unique geological landscape! http://www.ozarktrail.com/
Finally, Castor Shut-ins Johnson's Shut-ins are notable for great hikes, too, but I'll save those for my next blog project, which will share the best swimming holes in the area! Until then, happy hiking!