Fox Park – Neighborhood Focus
Fox Park has been a historic district on the National Register of Historic Places since 1985. After losing significant population in the 1990s, Fox Park is now one of the fastest-growing south city neighborhoods in St. Louis.  This south St. Louis neighborhood is bound by I-44 to the north, Gravois to the south, Nebraska to the west and Jefferson to the east.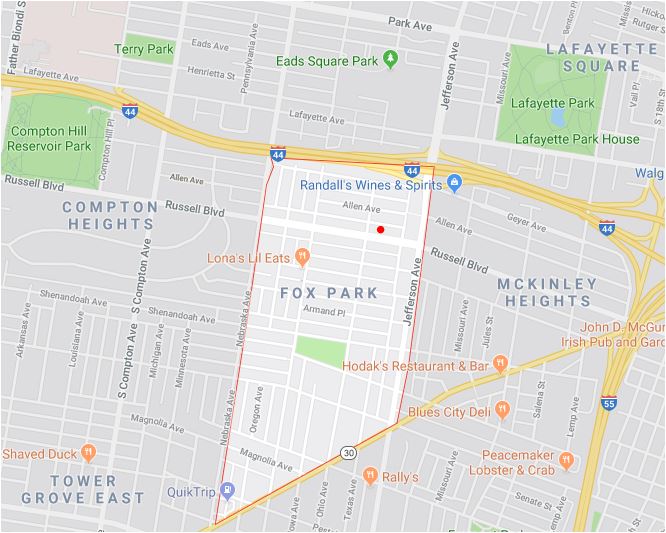 Living in Fox Park provides residents easy access to highway 44. Commuting to St. Louis University campus or hospital is less than a ten minute drive. Commutes to the Central West End, downtown, or Cortex are about ten minutes as well.  Surrounding Fox Park are several other popular neighborhoods such as Lafayette Square, Tower Grove East, Compton Heights, McKinley Heights, and Benton Park, meaning great restaurants and amenities are all nearby. Below we highlight gems of the Fox Park neighborhood, plus some surrounding spots you might want to try.
Fox Park Restaurants
Lona's Lil Eats – 2199 California 
5 minute walk | 3 minute drive
A neighborhood favorite known for fresh Asian cuisine with a soul-food flare, owner Lona Luo went from cooking in a rural Chinese village to owning this James Beard-nominated restaurant. Try our favorite – the Smokey Chicken Wrap.
Savage – 2655 Anne Avenue
2 minute walk | 1 minute drive
Last month, Bon Appétit magazine named Fox Park's Savage as one of the top 10 new restaurants in the country. Located inside what used to be the old A&B Liquor Mart, chef Logan Ely Logan's focus is on "simple" bites that rely on making a few ingredients shine by doing very little to them. The 20-seat restaurant is unlike any other in town.
Kitchen House Coffee – 3149 Shenandoah
15 minute walk | 3 minute drive
What's not to love about a coffee house with a brood of chickens out back? Owned by a Tower Grove East resident and urban farmer, this establishment is committed to local, freshly-sourced products. The baristas will remember you and it will grow to be one of your favorite neighborhood spots.
Crafted – 3200 Shenandoah
15 minute walk | 3 minute drive
Build-your-own burgers and updated pub fare meet a creative cocktail list in this colorful bistro at the cozy corner of Shenandoah and Compton. A local favorite.
Fox Park – 2751-2775 Victor Street
6 minute walk | 2 minute drive
One of only eight parks in the city with a splash pad, Fox Park offers plenty of amenities. It has a playground, dog park, basketball courts, and softball fields.
Near Fox Park
Blues City Deli – 2438 McNair Avenue (Benton Park)
15 minute walk | 4 minute drive
In nearby Benton Park, this festive hangout offers sandwiches and po' boys amid blues-themed decor, with occasional live music. This place racks up positive reviews with Yelp ranking it first in Missouri and number 28 in the whole country (2017). And for good reason.  The masters at Blues City Deli are true sandwich connoisseurs.
Peacemaker Lobster and Crab – 1831 Sidney Street (Soulard)
20 minute walk | 4 minute drive
Located in Soulard, this rustic eatery with fishermen photos and retro accents, offers lobster, po' boys, shrimp and a raw bar. The menu features seafood flown in fresh every day. Outdoor dining out front is especially enjoyable.

Lafayette Park
9 minute walk | 2 minute drive
Lafayette Park was dedicated in 1851 as one of the first public parks, and by far the largest of its era. It is considered by many historians to be the oldest urban park west of the Mississippi. Its 30 acres feature a lake, playground, pavilions, and some of the most picturesque walks of any park in St. Louis. The park hosts free concerts and vintage baseball games in the summer.
Compton Heights Reservoir Park
14 minute walk | 4 minute drive
Known for its water tower which was built 1899, the tower quickly became a favorite spot from which to view the City, and remains so today with limited public hours for the public to tour and climb to the top. Amenities include playgrounds, a dog park, and tennis courts.
2647 Russell Boulevard
2647 Russell is a home we sold in 2019 and is a great example of Fox Park architecture. Located on a tree-lined boulevard near highway 44, this home is just minutes away from downtown.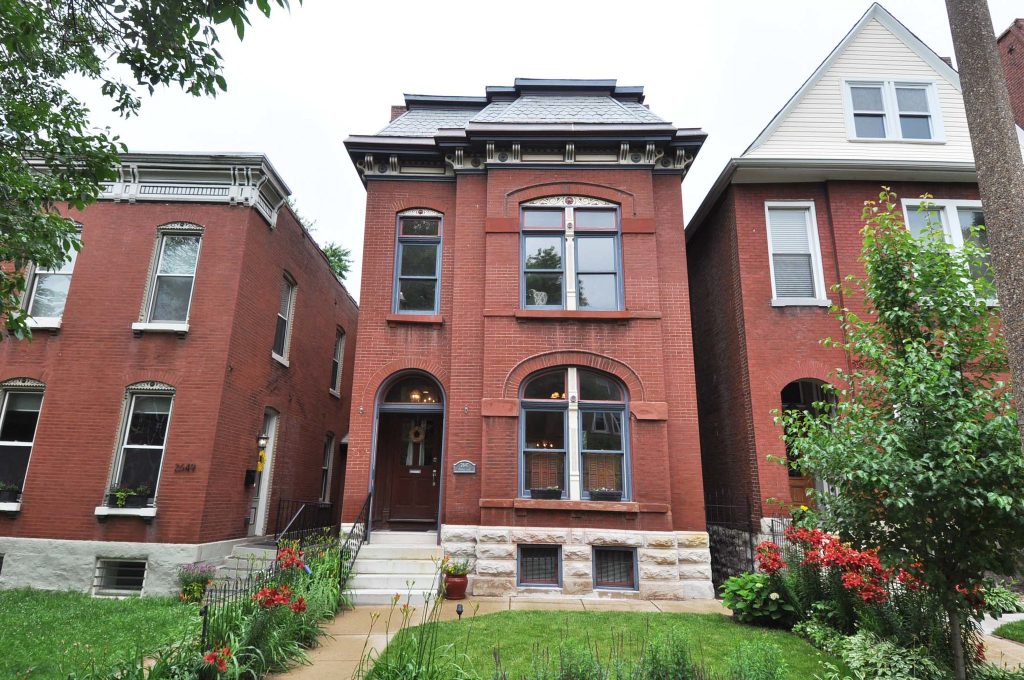 The masterfully carved + meticulously maintained woodwork in this home is a rare find. The updated kitchen is straight from the pages of a magazine with solid surface counters, under-mount sink, open shelving and stainless appliances. Large skylight allow the outdoors in and bathes the interior with moonlight during the night. The home has many beautiful historic decorative fireplaces. 
If you have a home to sell in Fox Park or are looking for a home in this neighborhood, we would love to talk.