Tower Grove & Shaw Seller's Market
We just had two listings in the Tower Grove area sell the first weekend they were on the market. Both 4201 Wyoming and 3942 Arsenal were multiple offer situations. Inventory is incredibly low right now in Tower Grove and Shaw, as evident in the map below where we searched for 3 bed/2 bath homes. So if you've been considering selling, now is the time and of course, we can help.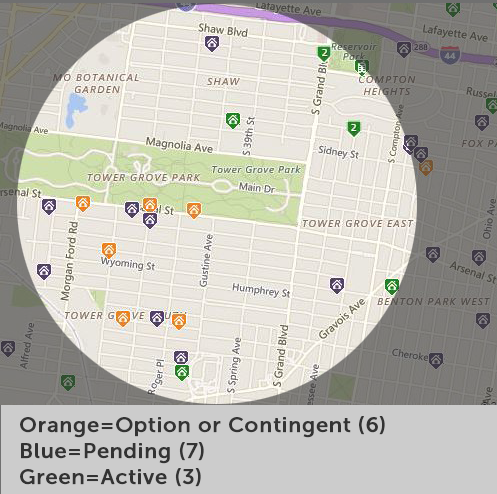 Preparing To Sell
Let's face it. Thinking about all the projects you need to complete before putting your house on the market is not fun. You begin to make the list, going room to room, and quickly feel overwhelmed. By the time you are finished, your list is huge, and you haven't even considered curb appeal yet. But we are experts in helping clients quickly get their homes list-ready. We provide a pre-consultation to help assess where you need to spend effort so you can make an informed decision about moving forward.
Hiring the Right Listing Agent
Another important factor you will want to consider when listing a home in this market is having an agent with experience in managing multiple offers. It isn't just a matter of selecting the contract that came in at the highest amount.  You will want to consider how secure the buyer's financing is along with other variables. Our fiduciary responsibility is to you – we will always be looking out for your best interest and negotiating the best deal on your behalf. But we pride ourselves on  fair and honest treatment throughout the offer and negotiation process and strive for prompt, ongoing and open communication so that all buyers – successful or not – will feel they were treated fairly and honestly. 72% of home owners only contact one agent before listing their home. Please, make sure you contact us, and ask the tough questions.
Buyers in a Sellers Market
If you do decide to sell, below are some articles aimed at buyers in a multiple offer situation. These are good resources even for sellers. They will help you further understand all the variables you will want to consider when you have multiple offers in front of you.
Home Sellers and Their Selling Experience
Below are some interesting highlights from the 2015 Profile of Home Buyers and Sellers report conducted by the National Association of REALTORS®.
We Can Help
This is a lot of information to sift through if you are planning to sell. But we can help make the process easier for you and we have an excellent satisfaction rate. Let us run some comparable for you and help you determine what your home is worth in today's market. It may be the right time for you to make a move. Contact Dawn today.