Boomers & Millennials In The Market
It seems like every week we are reading new predictions about where the boomers are moving in their retirement years and when and where the millennials will enter the market. Economist read the census data differently, but most agree that cities and walkable suburbs offer a strong pull for boomers and millennials.
56 percent of millennials and 46 percent of baby boomers prefer to live in more walkable, mixed-use neighborhoods; demand is also evidenced by sharp increases in rents in recent years.
The Boomers
According to U.S. News & World Report, about  two-thirds of retirees have either already moved, or plan to move, and most of them are downsizing to a smaller home, but with a significant counter-trend. Some 30 percent of boomers say they intend to move to a bigger house – large enough for their children to visit with the grandchildren, or sometimes to accommodate an adult child who lives with them. They typically want:
Move-in ready, updated homes

Walkable neighborhoods and/or access to public transportation

Medical care/facilities nearby

Access to cultural activities, restaurants, shopping
40 percent of retirees and pre-retirees expect that they will move to a different part of the country. That still leaves 60 percent who will stay close to home. We St. Louisans love our homes and our neighborhoods. Our families live nearby, and we want to stay close to old friends. 
Millennials
Americans born after 1980 make up the largest generation in history. A week doesn't pass without some sort of report about millennials and their impact on the housing market. Statistics indicate that the first wave of millennials moved to the cities as they began their first jobs and they were deemed the generation dedicated to living and working downtown. But then a nationwide survey of millennials aged 19 to 36 showed only 13 percent of millennials actually lived in or near downtowns—63 percent lived in other city neighborhoods or suburbs. Many are being priced out of the bigger cities, so they are moving to more affordable rustbelt cities, like St. Louis. Bloomberg took the most recent US Census data and came up with the Millennial Housing Affordability Index, declaring 13 cities completely unaffordable for home ownership based on estimated earnings for the millennials living there. The chart below reflects this.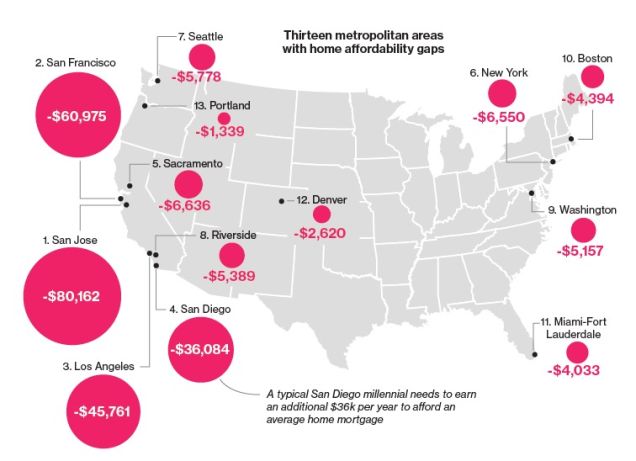 Millennials typically are interested in walkability and public transportation, time to enjoy relationships and quality of life issues (not working long hours to pay rent or mortgage in a big city), and affordability, since many have student loan debt. Below shows where St. Louis ranks in the affordability study.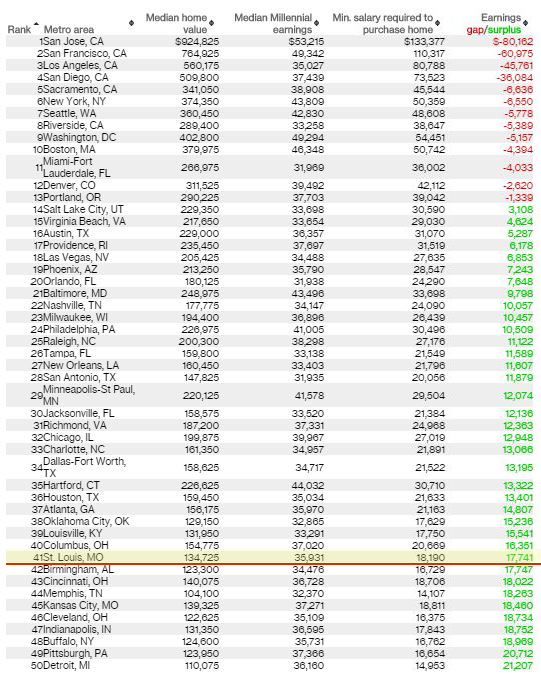 Summary
For more information, contact us and a buyer's specialist can answer your questions.