Neighborhoods and Housing Surrounding MetroLink – St. Louis County
Earlier this week we looked at housing and neighborhoods surrounding MetroLink stations in St. Louis City. In this post, we explore options for housing near stations in St. Louis County. Again, here is the MetroLink map to help with orientation.

According to the National Association of Realtors, 60% of home buyers prefer mixed-use neighborhoods where one can easily walk to stores and other businesses.
University City-Big Bend
With one of the highest populations densities of any municipality, University City is an ideal place to located if you prefer a walkable lifestyle. The city was originally built as a street car suburb in the late 19th and early 20th century. With a thriving commercial district on The Delmar Loop and other amenities like the Forest Park, Washington University and the St. Louis History Museum just a short trolley ride away, people from larger metropolitan areas feel right at home here. Parkview, Ames Place, and University Heights are all great neighborhoods within walking distance to the MetroLink stop at Big Bend and Forest Park Parkway.

Clayton
Clayton is the county seat of St. Louis County as well as an economic hub of the entire region. With employers like Enterprise, Centene, Washington University, Caleres, Brown Shoe, Commerce Bank, Armstong Teasdale, Ritz Carlton and Husch Blackwell, this is place where you can truly live, work and play. Downtown Clayton is home to some of St. Louis' finest restaurants like Niche, Pastaria, I Fratellini and Remy's Kitchen and Wine Bar. Clayton High School is ranked 2nd in the state and US News and World Report ranked it 124th in the country.

In urban planning circles, inner-ring suburbs are the next frontier.
Richmond Heights
Richmond Heights is just south of Clayton and ripples south and west of the Intersection of Hwy 40 and McCausland. Most of the residential areas in Richmond Heights are walking distance to the Maplewood Commercial district along Manchester. Home to the St. Galleria, The Boulveard, Whole Foods and Trader Joe's there is no end to the shopping possibilities. In addition to ultra convenient location and superb commercial amenities The Heights rec center has one of the best indoor aquatic centers in the region.

Brentwood I-64
With around 8,000 residents, Brentwood is one of the smaller municipalities along the MetroLink line. However it offers a variety of amenities for residents including commercial districts, green space and highly ranked public schools. Brentwood has over 44 acres of green space with many playgrounds and parks. Many of these parks are connected by over 5 miles of walking trails.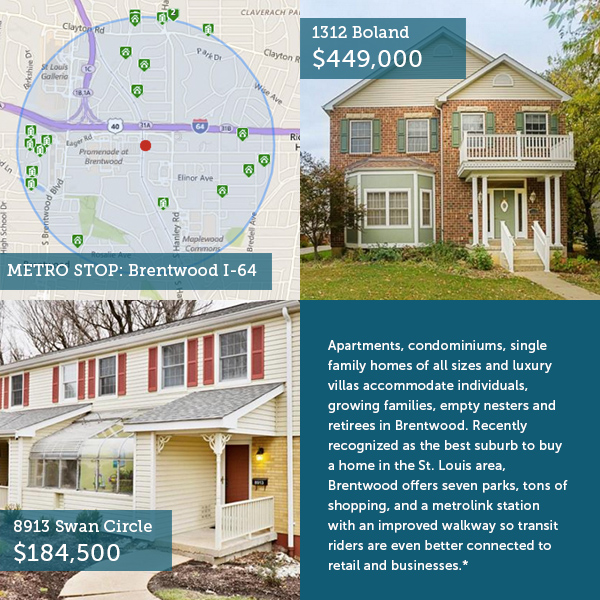 Maplewood-Manchester & Sunnen
Maplewood has a thriving downtown located at the intersection of Sutton and Manchester. Here you can buy groceries, get your hair done, stop in at the chiropractor, walk down a strip of eclectic restaurants and shops and find yourself on the patio Schlafly Bottleworks Brewery. This inner ring feels suburb is nestled between St Louis City, Webster Groves and Richmond Heights. To the north is Hwy 40, to the South is I-44. Developed in phases starting from the mid-1800's and running through to the 21st century, the residential areas of Maplewood offer a very unique mix of classical housing styles ranging from wood clapboard Victorians to Arts & Crafts style bungalows and "gingerbread" brick bungalows to 21st century townhomes.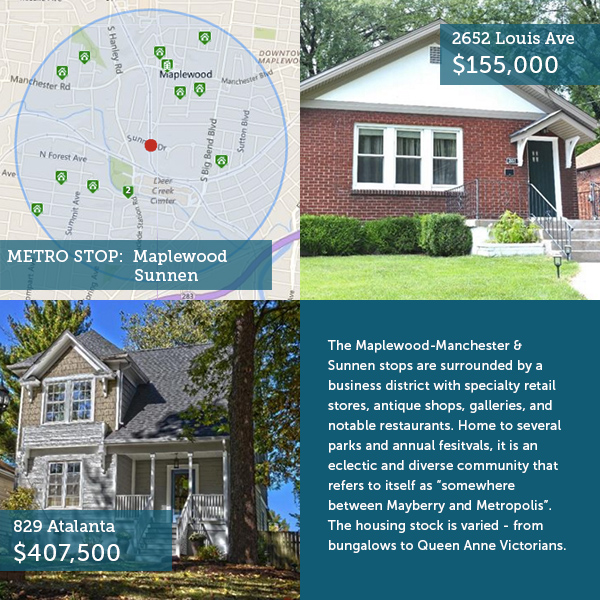 Shrewsbury-Lansdowne
This stop of the MetroLink swings back into the city limits of St Louis City proper. This stop is surrounded by the most residential of areas. The neighborhoods to the east of this stop include Lindenwood Park and St. Louis Hills. To the west is Shrewsbury which lies in St. Louis County and participates in the Webster Groves School district.

If proximity to public transportation is important to your home search, know that there are many options at all price points – from condos to single-family homes. We can conduct very targeted searches that will hone in on your most important criteria, whether you want to live in St. Louis City or St. Louis County.
Moving can be stressful, especially relocating to an unknown city. If you are considering a move to St. Louis, we can put the information you find online into context and will do the necessary research to help you make the best decision about where to buy your next home. We would love to be your experts and welcome you to all that St. Louis has to offer. Please contact us with any questions.
Sources