Zestimates In The St. Louis Market
Don't Let Zillow Fool You
Today's home buyers and sellers have more online resources available to them than ever before. Nine in 10 home buyers today rely on the internet as one of their primary research sources, and 52 percent turn to the web as their first step.(1)
But the availability of all this information doesn't make things easier. In fact, it can be very confusing. Especially when it comes to Zillow's Zestimate®. According to Zillow's website,
Zestimates are computed three times per week based on public records and user-submitted data points. It is a starting point in determining a home's value and is not an official appraisal.
Zillow claims their Zestimates have a median error rate of 8%, but in St. Louis – Zillow no longer even reports the degree of accuracy for Zestimates.
2015 Zestimate Accuracy
Zestimates can really be off on rehabbed homes. For example, we recently listed a gorgeous rehabbed property with a low Zestimate of $103,876 that did not take into account the hundreds of thousands of investment dollars that went into turning into a showcase home. It sold for three times the Zestimate amount.
In another example, a nearly 3,000 square foot home had a Zestimate of only $192,700. The beautifully rehabbed property sold for 63% over the Zillow's Zestimate.
When we look at a few more examples for the 63116 zip code in August-September of this year, the selling prices ranged from 11-90% over the Zestimate!
2019 Updated Zestimate Accuracy
We checked the Zestimate Accuracy rating on their website in March 2019 and they still are reporting one-star accuracy. Their rating scale is as follows:
 = Best Zestimate
 = Good Zestimate
 = Fair Zestimate
 = Tax assessor's value, or unable to compute Zestimate accuracy
0 stars = No valuation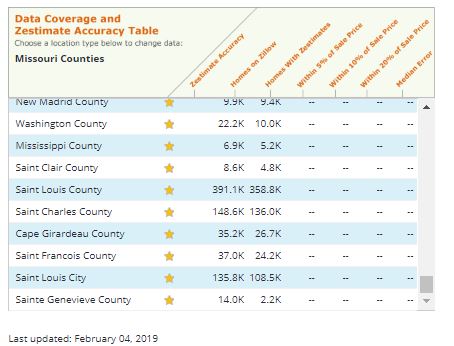 Essentially Zillow provides really inconsistent home value estimates to buyers and sellers and can cause unrealistic expectations for both. An algorithm just cannot incorporate the years of knowledge accumulated by a real estate professional who has years of experience with specific neighborhoods and market conditions, much less things like landscape/yard issues or recent renovations.
If you are considering selling or buying a home, please don't hesitate to contact me for a consultation. I can provide you with up-to-date information about the neighborhood(s) you are interested in so we're making educated and sound decisions based on the latest market data.
(1) According to a 2012 Joint Study from The National Association of Realtors® and Google