First Steps in Pricing Your Home To Sell
When I am getting ready to put a new listing on the market, determining the right listing price is one of the most important tasks. In order to properly price a home for sale, REALTORS® prepare a Comparable Market Analysis (CMA) for the property. The purpose of a CMA is to use historical market data — namely, similar property listings within a reasonable radius of your home that are sold, active or pending — to determine a range of estimated value in the current market conditions for your home.
Another important component in determining price, requires an understanding of the current listing inventory. The CMA does not take into account unique features of the home, updates that have been complete, or special conditions. In an effort to price the home correctly, it is important to know how the subject property stacks up to the active competition in terms of condition and updates.
Here's a quick example:
Subject property: Tower Grove East, 2 story brick home with 2 bedrooms (one is a master suite), 2.5 baths, 2 car garage and 2nd floor laundry with 1890 square feet. Updated kitchen and baths. System updates include electric, plumbing and HVAC, new windows and newer roof. Landscaped backyard with privacy fence. Very very clean and well-kept and completely buttoned up around the edges. It was renovated and updated just 6 years ago. The new owner has done additional work since purchase including installing new bamboo floors on the second floor, ceramic tile in the bathroom and building a garage.
Search Criteria: For this search I looked at homes in Shaw, Tower Grove East, Fox Park and Tower Grove South. These neighborhoods all border one another and in my experience in working with buyers, if they are interested in one of these neighborhoods, they are generally open to looking at all of them. In order be part of this search, a home had to have between 2-3 bedrooms and at least 2.5 baths. The subject property has 2.5 baths and most homes with 2.5 baths have a MASTER SUITE. The master suite is a special feature to be taken into account when pricing. The price range was limited to $160,000-200,000.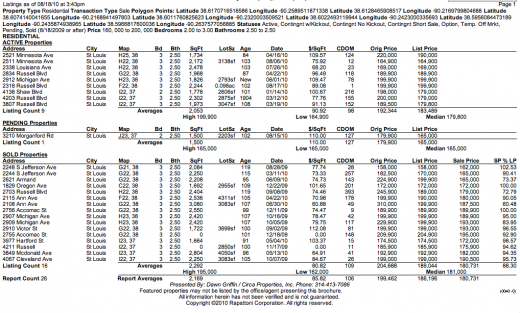 The Sum of the Above Report:
There are 9 current active listings ranging from $164,900-$199,900. The one that is most similar (2beds/2.5baths) is priced at $179,900. It is on a busier street and does not have a garage. The average price of the active listings is $183,489.
There is one pending sale. It also has 2 beds/2.5 baths. It's a town home vs a single family and it does not have garage. It was listed at $165,00 when someone made an offer. The selling price will remain a mystery until closing.
There are 16 sold properties on the list. Priced between $162,000-$190,500. The tough thing about the data in the sold category is that none of them are 2 bedroom homes. But the subject property has a dedicated space for an office which is usually what that third bedroom ends up being anyway. And while all of the sold properties have 3 bedrooms, not all of them have garages. A price adjustment would have to be made either way. The average price for this category is $180,731.
This is all just background. This list can be further narrowed or broadened. For instance, there is one more property that didn't find its way on to this CMA. It is a home just a few blocks away from the subject property. 2 beds/1.5 baths and a 2 car garage. That home was on the market for 214 days and finally sold for $168,000. I viewed that home while it was on the market, so I know that the bedrooms were smaller and the quality of work was not as good. It had 1105 square feet and the subject property has 1890. The subject property has a master suite, the one that sold for 168K did not.
So what will this home be priced at? Stay tuned. It's coming soon!
*Please note that this is NOT the process for appraisals. That process is much more detailed and has to conform to the lending guidelines. The above just notes the first steps in determining listing price.