What Do Chicken Sexers and Real Estate Agents Have in Common?
Alternate titles for this post could have easily been"The Myth of Price Per Square Foot" or "Determining the Best List Price" or "Why Does Zillow Keep Spreading Lies about My House" but come on, Chicken Sexers? That's going to get some attention.
What's a chicken sexer?
A Chicken Sexer is tasked with determining gender in recently hatched baby chicks. Becoming an accredited Chicken Sexer takes years, with a student studying at least 250,000 chicks before attaining  proficiency. The funny thing is, when asked how they are able to separate the boys from the girls the professionals cannot consciously explain it. They say they just "know" and chalk it up to intuition.
According to Joshua Foer, the author of Moon Walking with Einstein , this skill is hard earned and isn't intuition at all but knowledge derived from years of experience. "Even if the sexer calls it intuition, it's been shaped by years of experience. It is the vast memory bank of chick bottoms that allows him or her to recognize patterns. In most cases the skill is not the result of conscious knowledge, but pattern recognition. It is a feat of perception and memory, not analysis."
And this is what seasoned real estate agents and chicken sexers have in common. Experienced agents spend 1000s of hours in the field studying homes which helps them accurately predict pricing. Realtors consult plenty of data sources when determining pricing, but professional Realtors bring far more to the table than a chart with the number of beds and baths and square footage. Realtors use the memories of all the homes toured, all the inspections attended, all the contracts negotiated to bear on each new pricing determination giving them special insight. Pricing homes is more than conscious reasoning, it is "a feat of memory and perception."
The case study below shows how simple data (Price/Square Foot) and big data (Online Estimates) both failed to accurately predict the price of one our listings and how our pricing strategy coupled with Realtor "intuition" helped our client secure considerably more than either of the other methods predicted.
SUBJECT PROPERTY: 2841 Shenandoah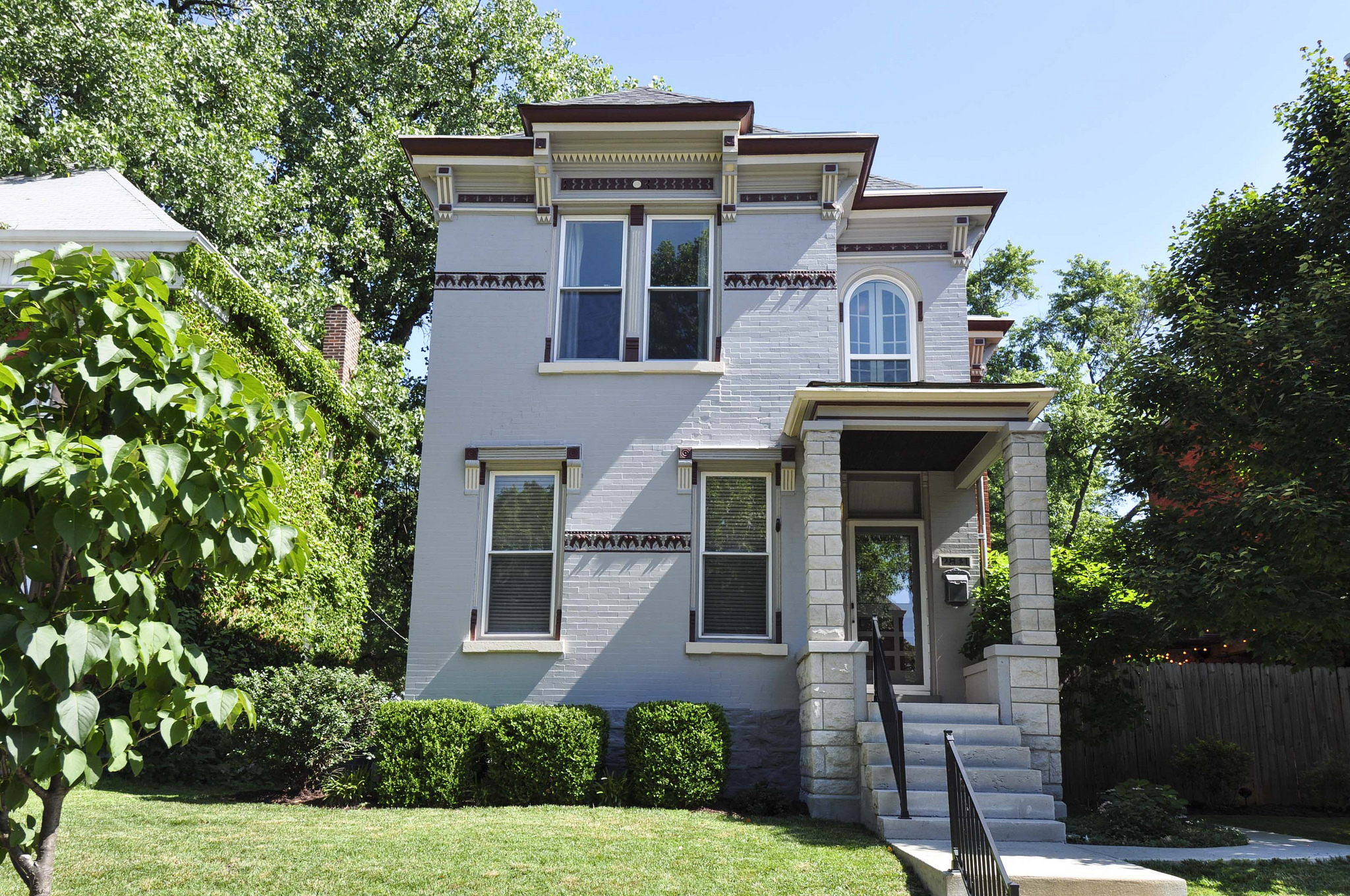 Specs: 2 bed 1.5 bath, 1556 square feet, double lot and a newer over-sized two car garage. Includes an outdoor entertaining area with pergola and a deck. The kitchen was 10 years old and while well done, felt dated. Formerly a 3 bedroom, the floor plan was re-worked so that a small obsolete bedroom was eliminated giving that square footage to a larger bath and walk in closet. The basement was tidy with a finished office space.
BIG DATA's Estimate:  The screenshot below shows three different online valuations for 2841 Shenandoah. The Estimated Value from the three sites ranged from $213,188-$242,920. (Important Note: these values were snapped after the recorded of $250,000. Before we listed the home these ranges were coming in just under $200,000. Once the sale closed at $250,000 all the data sources feeding the invisible algorithms updated causing the values below to increase.)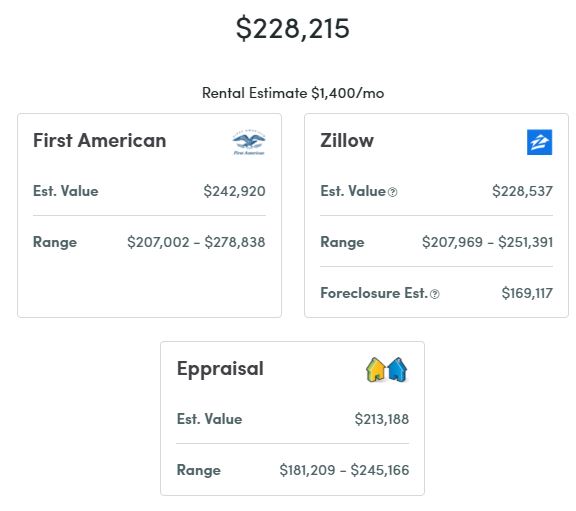 BASIC DATA's Estimate: All of the homes in the screenshot below are very similar to 2841 Shenandoah. All are within 1/2 mile of the subject property. All are 2 story brick homes. All have 2 bedrooms and 1.5 baths.  All are move-in ready. You can see that NONE of these homes sold for $121.23 which was the average price per square foot. The huge range from $99.82 – $160.67 makes the average a useless number. It is not predictive in any way. It does not take into account modifications, upgrades, obsolescence, additions, converted attics or finished basements, yard size, garages, pools, etc.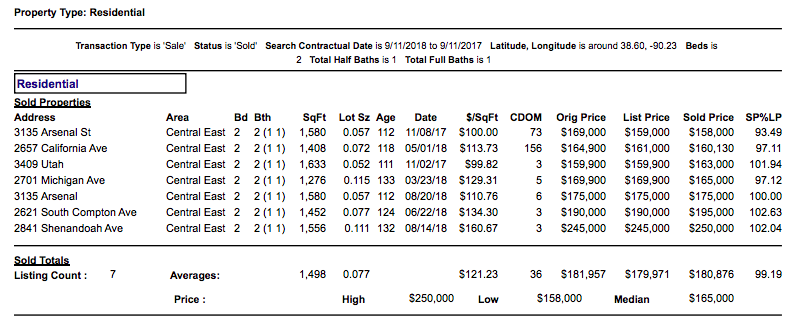 OUR PRICING STRATEGY: Sold Comps, Consumer Feedback + Active Continuum
Sold Comps: One of the most common ways an agent will value a property is by looking at "comps"–comparable sold homes. To be considered a comparable, a home must be within the same geographical area, architecturally similar (close in size and number of beds and baths), and have sold within the last 6 months. The comparison approach allows adjustments to be made for upgrades and deficiencies. This is the best method for properly estimating a home's list price. It uses data from the recent past to predict value. But seasoned agents do more than look at the past to predict the future.
Consumer Feedback: When pricing homes and predicting value, agents have the upper hand over the invisible algorithms because agents work in real time and are immediately connected to consumer feedback relating to condition and aesthetics. Realtors are in the field, actually walking through homes, noting how one compares to another. Using all five senses, agents can gather more information on homes than a collection of photos and a spreadsheet. Additionally, agents are usually accompanied by actual buyers allowing us to absorb immediate consumer feedback.
Building the Continuum: In addition to evaluating the sold data, agents tour the active competition before helping a homeowner determine price. When discussing price we build a continuum of current active listings and are able to identify where on that continuum the subject house falls.
SUMMARY
In established neighborhoods, where homes have undergone disinvestment and reinvestment perhaps multiple times, finding homes similar enough is not that easy. We need to rely on more than just data to determine price.
2841 Shenandaoh was a rare home. Its specs could be reduced to a spreadsheet. 2 beds, 1.5 baths, 2 car garage, 1556 square feet. But it was a unique home. It sat on a small hill on one of the prettiest streets in the neighborhood. The houses around it were picturesque and well maintained. The double lot offered additional spacing between buildings. That distance between homes, coupled with the height of the ceilings, meant the quality of light and air in Shenandoah were different, unique, special.
There is no line on the comparative sales approach that delineates quality of light and air but home buyers will pay a premium for it. And agents know it when they feel it. This bring us back to the similarity between chicken sexers and real estate agents.  They are experts because
They use their memories to see the world differently. Over many years, they build up a bank of experience that shapes how they perceive new information.
Joshua Foer (Moonwalking with Einstein)